Been revisiting some Messier objects lately. I was a bit "aware" of my surroundings last night observing during lock down and I believe a curfew. Another eerie night waiting for my dog to bark at someone. He didn't, but I could not help but wonder who may pass by in the night looking for a little "handout" in desperate times. Day 5 or 6 of quarantine, kind of losing track. I did not stay out long, but I was not going to waste the night. After I gathered my notes, I called my wife to help me pack it in. Call me a little spooked alone in the dark behind my place.
So, what an unexpectedly beautiful galaxy. After some trouble star hopping to it not really paying attention, the bright core was easily spotted. Soon, a fairly bright cigar shape became apparent. Now, early on in the observation I kept seeing a rather prominent dark feature to the west of the core. I have seen pics of M106, sure, but I did not remember or expect to see something like this. But, it was undeniable. I tried to sketch it to scale for effect, but I hope it shows up well in the rendering.
Soon, I began to see short glimpses of a tiny bright spot of a not so easy stellar nucleus. Some dim stars flickered in and out of view, maybe the faintest one off the NW ansa at magnitude 14.6 according to Wikisky. I only noted the brighter field stars for reference. Now, amazingly I began to see the core as a very short, thin linear feature tilted slightly clockwise from the general cigar shape. Almost mottled, and at one point I thought it had at least two brighter condensations. Again, I tried to sketch it to scale for effect and hope it shows well.
I began to see a very dim and slight "S" shape to the galaxy. The northern "arm" appeared a little brighter and more extended, the southern arm just a stubby slightly brighter patch. (When I say arm, I do not mean clearly seen. Rather inferred by some slight variations in surface brightness I catch from time to time). The overall impression gave it an "S" shape. Now, I was aware M 106 has some prominent dust lanes away from the small bright core, but I had no idea if I'd even see them or not. But, I did catch one convincing glimpse of a broader dust lane to the west. Trying to decipher images does seem to suggest this one is more prominent than the other.
I spent most of the observation, kind of rushing through it because I was "alert" to my surroundings being under the hood, at 100x. I did gather up the courage to walk over and pick up my 10mm APM UFF for 120x. Turns out, 120x was, in some ways, the best view. This is when I noted the "S" for and the thin bright core. The larger dust lane and the small prominent one were noticed at 100x.
I tried to sketch it to show all the detail, large and small. There is some finer detail close to the nucleus I hope shows up well in the rendering. Many of us know and understand, this is not what the galaxy looked like most of the time. Rather it's a composite of more dynamic short glimpses compiled over the 45 minutes I spent watching the galaxy. Upon verification, I was shocked at how close I got to what the galaxy looks like. This is how it looks to me, which is why I sketch, and to share with others. I am really happy with this one.

Click to enlarge it a bit, especially to see small detail near the core (I hope). Thanks for looking.
Edit: Trying to make the detail show a little easier. The posted image is about 80% of the original size, so I have to compensate a little more for the smaller image without overdoing it.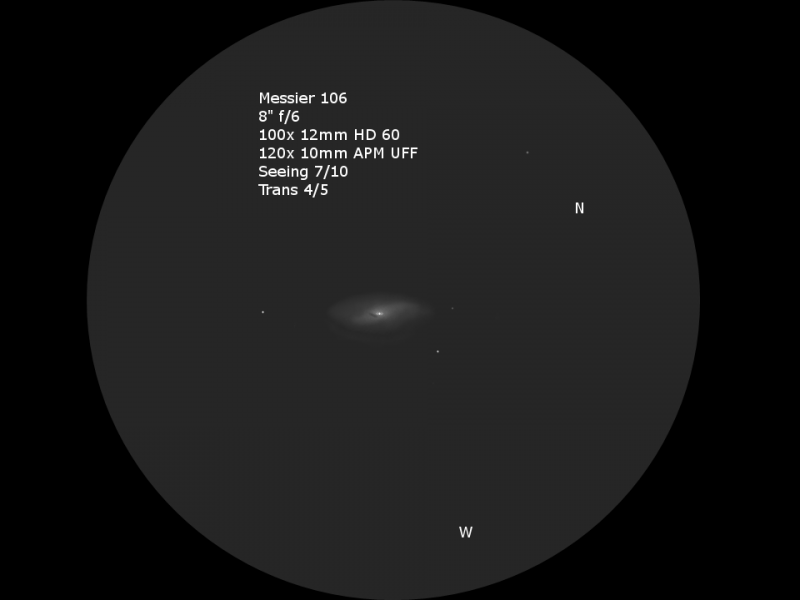 Edited by Asbytec, 21 March 2020 - 06:51 AM.