Yes I know this is a topic discussed many times, Best discussion is https://www.cloudyni...ions/?hl= clavé.

But, after having studied many materials here on CN and anywhere, I have still some doubt about Ets Clavé eyepieces of first generations.
I'm speaking about the 27 mm (French barrel), chrome barrel Clavés. I understand that these are called "1st generation" (famous picture scheme of "Wrose"), and that the "2nd generation" ones have a black barrel.

So if I understand well all "chrome barrel" are considered "1st generation", but inside this "1st generation" there are different batch (referring to William Rose picture).
I read that "1st generation-One" Clavés are distinguished by black flat interior of barrel, VS grey barrel of "1st generation-Two" (sometimes called also "2nd Generation", but not the one with black barrel above, still the chrome barrel one), and by a different coating.

Summarising information around the forums, coating levels of Claves could be: a. no coating (very early 1st Gen from '50s); b. light blue ('60s?); c. dark blue (late 2nd generation of chrome barrel 27 mm eyepieces); [both b and c still with Parra-Mantois glass, probably] d) violet coating (Schott glass).

I'm asking to discuss more because I have different chrome barrel 27 mm Clavés, and I can distinguish clearly three different coating pattens:
1. someone has a real "white-transparent" aspect, with white-yellowish reflections (I can't say blue) this seems to be REALLY white and transparent, I'm not certain that a coating is present or it's just the glass that is reflecting; 2. others have a "pure-white" aspect, with light blue reflections; and 3. a third kind has a more blue, violet-like coating, still different from the pure violet coating that I see in the more modern items (the 1,25" barrel of 3rd generation or Kinoptik I have as well). So the 4th coating I observe in my eyepiece (I haven't any "2nd generation black barrel one) is "Deep Violet", on 1,25 mm Barrel 3rd Generation and Kinoptik era ones.
I enclose some pictures of my 6 mm, 12 mm and 16 mm chrome barrel 27 mm Claves that I tink have the coating nr. 1, quite clearly different from the others that have the other kind of coating.
I post also pictures of the same in the part of the internal barrel, that in the 6 mm seems to be "flat dark", in the other two is different because there is an insert (black metal) with the field stop of eyepiece. The barrel itself seems to be "naturally left" (brass-like, polished).

Following, I will put pictures of the 16 mm of this series (1. white-yellow coating) togheter with a 16 mm of the "2. white-light blue" series. The "1" is on the right. I tried to keep in pictures the color of reflections, and I think it's quite clear the difference.
Let me say what do you think about, please.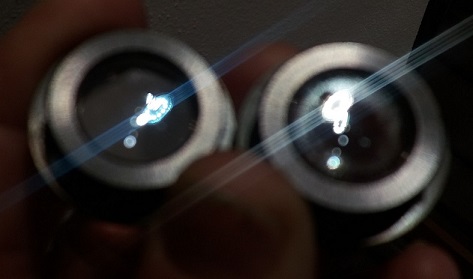 Edited by astroroman, 25 March 2020 - 01:34 PM.