Galaxy season is finally here! This was my first chance to give galaxies a go with NV and it did not disappoint. This was my first clear moonless night in weeks, maybe months. I made sure I was going to be able to take full advantage of it. Luckily I am working from home now with the virus spreading, so I was not worried about staying up too late for work the next day. Small victories....
All of my observations we with my 12" F4.9 dob with a 56mm plossl attached to my Micro NV. I live in a bortle 5/6 zone and have light domes to my NE and SE, which delayed my main galaxy region (coma region) from being visible until about 10:30. The night was pretty transparent, but the seeing started from average at best and slowly degraded as the night went on.
I started out as I usually do by visiting some HA favorites to let the sky get as dark as possible before hunting galaxies. I think this is my best hand held horsehead shot to date. Shot with an iPhone 11 Pro. Single exposure.
Horsehead and flame nebula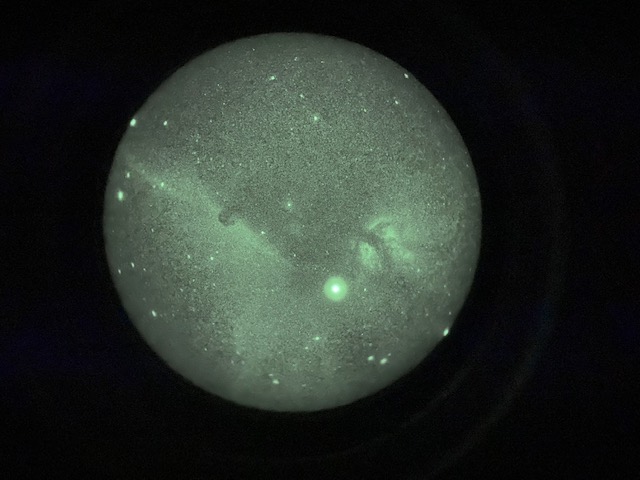 I took some other quick snapshots that came out well also. The lighter ones were taken with a 3 second exposure, the darker ones with 1 or 2 second exposures.
Rosette nebula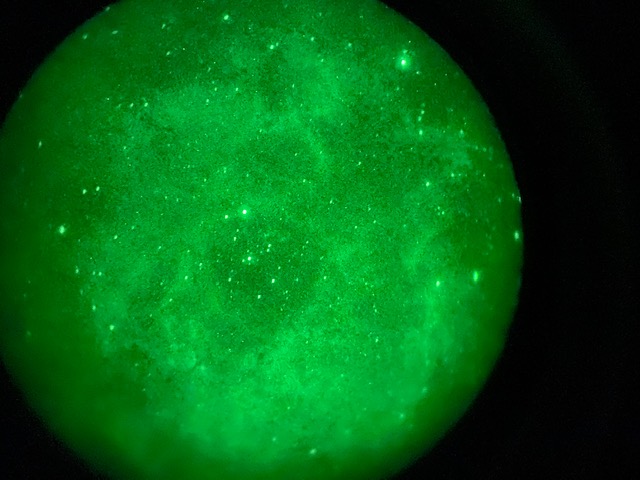 Monkey head nebula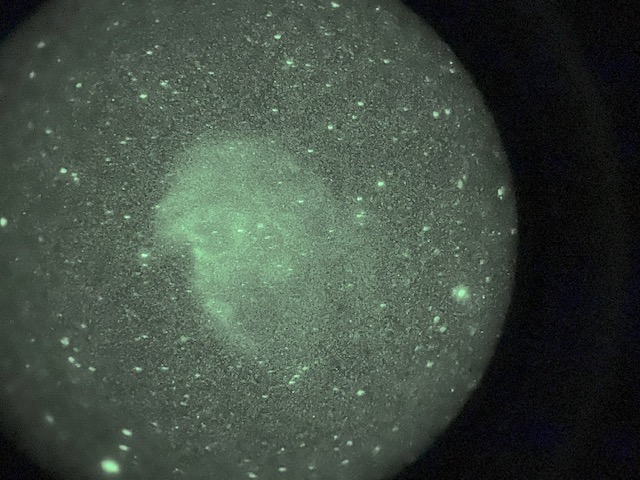 IC 443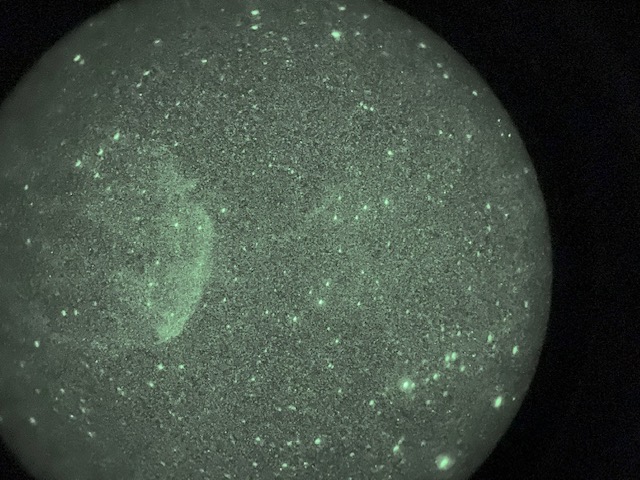 Flaming star nebula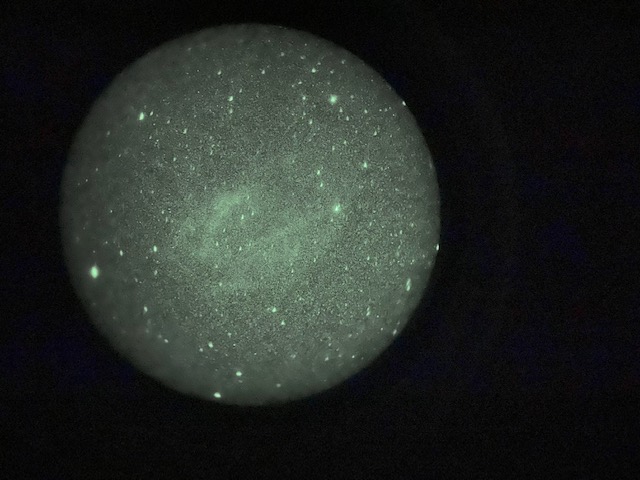 Finally it was dark enough to start checking out some galaxies. I started with the Whirlpool and Sunflower galaxies. I was immediately surprised to see just how much detail I could make out in M51. I could see the swirling arms and even make out the bridge between M51 and NGC 5195. I have seen the arms of M51 before, but only from a Bortle 4 zone with no light dome in that direction. Unfortunately, my home site has a light dome close the M51 almost all the time. The Sunflower galaxy showed a nice disc with a bright core.
While in the neighborhood, I checked out M101 as well, but it just showed as a large diffuse cloud with a little brighter core.
Trying to get away from the light dome, I moved over to M94 and NGC 4625,4618. I was just able to make out the 13th mag NGC 4625. I believe this is my limiting magnitude at my site, as was confirmed by several other observations of 13th magnitude galaxies, but I was unable to go any dimmer. Nearby, the Coccoon was a nice sight to see. I could make out the two arms extending from the core and NGC 4485 nearby.
At around 11pm, Leo was high enough to be completely out of the light dome to my SE, so I figured I may as well check out the triplet. What a sight! NGC 3628 was especially interesting being a nice edge on galaxy. I have seen the triplet before, even from a bortle 4, but this was by far the best observation I have made of them. I think I went back to them about 4-5 times more throughout the night to have another look. I was able to make out both NGC 3593 and NGC 3596 nearby as well. Next I headed over to the other triplet (quintuplet?) of M105, NGC 3384, 3389, M96, and M95. It was surreal to see all of these easily and in the same FOV. Confirming my 13th magnitude limit, I was able to make out NGC 3367, 3377 and 3412, but not 3391 nearby.
Next I moved over towards the tail of the Lion, and glimpsed NGC 3686, 3684, 3681 and 3691. A nice view, but nothing to write home about. Nearby was NGC 3607, 3605, 3599, and 3632. All easily seen, but again, nothing to write home about.
Finally around 11:30, the Coma region was making its way out of the light dome. I have looked at this region from my home site before with glass eyepieces and this same scope, and I was able to make out quite a few galaxies, but man did the NV blow those observations out of the water! No matter where I pointed the scope galaxies littered the FOV. I don't think I found a region in the area that had less then 4 galaxies in my FOV at a time. Most of the time there were many more! I just panned the area for a while before actually trying to identify what I was seeing. Even once I started to try, it took at least 10 minutes to finally get a grasp of which galaxies I was seeing. M86 and 84 along with the "eyes" galaxies pointed the way for me. I eventually made my way to every M object in the area. M99 was especially memorable. A beautiful little pinwheel.
I decided to scroll around skysafari to try to locate some interesting areas, and came upon Zwicky's Triplet. With all of the galaxies being 13.7 mag or less, I thought it would be a nice little challenge. I was able to locate NGC 4503 nearby, but failed to glimpse any of the 3. I guess there has to be some failure during the night.
Another area that caught my eye on skysafari was the Siamese Twins (or Butterfly galaxies) (NGC 4568, 4567). This was the highlight of the night! Such a beautiful interacting pair of galaxies. I don't know how much time I spent looking at them, but I could not take my eye off the eyepiece. They both had distinct cores with spiral arms faded out around them. Certainly a showpiece pair. I hope to spend more time on them in the future with a little more magnification.
All in all it was certainly my best night for hunting down galaxies by a long shot, thanks to NV. Unfortunately, the forecast looks poor for at least another week.... Looking forward to a nice long summer full of galaxies!