Toward the southeast border of the constellation Antlia (the pump) lies a group of galaxies known—unimaginatively—as the Antlia Cluster. At an average distance of 41 Mpc, its most notable feature is that it is the third-nearest galaxy cluster to the Local Group. Its motion is a bit of an oddity—a study of the group's velocities published in 1985 found that the members do not appear to be gravitationally bound in spite of their proximity to each other.
The cluster is comprised of just under 300 galaxies. While its extent spans about 20˚, the bulk of the cluster spans just 1.3˚, centered on NGC 3268. Through my 200mm on my 600D/T3i, this covers the center 25% of the sensor:
(Click for full size.)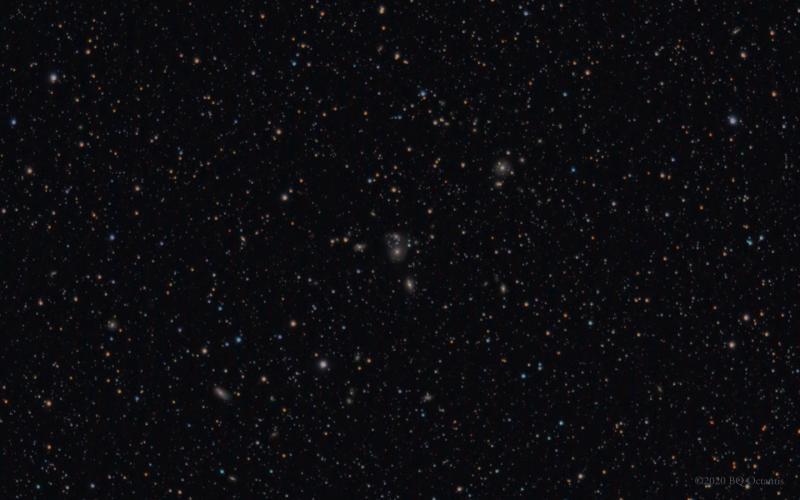 Antlia Galaxy Cluster, 2020-03-25
Canon 200mm f/2.8L II, Canon 600D/T3i
191×30sec@f/2.8 + 151×30sec@∅52mm (f/3.85)
Calibrated in RawTherapee 5.6 w/50×darks + 1×flat
Aligned & stacked in Lynkeos 3.3, processed in PS CS5
w/Annie's Astro Actions 7.0 & Astronomy Tools 1.6
Scaled to 85%, cropped to 1440×900
Off to the edge of the scene (at 10h36m -37˚15)—out where the bright stars start exhibiting some serious f/2.8 coma—was an unexpected treat, the irregular galaxy ESO 375-71: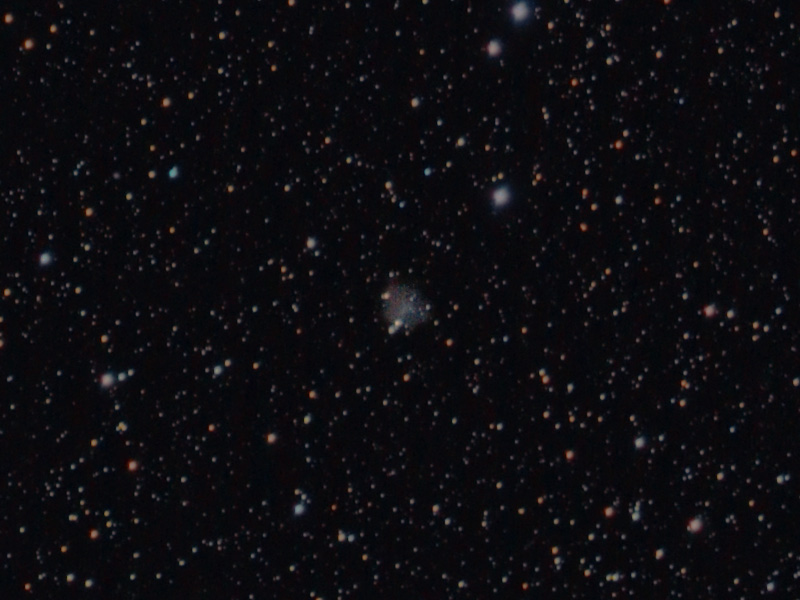 Full resolution, cropped to 800×600
I deemed the result worthy of tossing in the 'Bin at full resolution—my first upload since the Great Meltdown. Feel free to pixel peep!
Thanks for looking!
Cheers,
BQ
Edited by BQ Octantis, 27 March 2020 - 06:36 AM.