This is not a post about pretty Earthshine pictures. You won't find any here! It's easy to overexpose the crescent Moon and get very good Earthshine details. This is a post about extreme processing, to dig for details buried in the bottom 0.5% of the raw histogram. I started with a "normal" exposure of the Moon. This was taken tonight, with my ASI183mm and 742nm filter with a 6" Newtonian at f/6. Using a 12 bit capture, 1200 frames were stacked, and the image histogram was 91% filled for the brightest regions. Shown below is the standard rendering of the image. All of the images here are shown with their natural backgrounds (slightly cropped), and therefore no false backgrounds or anything like that. All processing steps were done uniformly across the entire image (no regional effects or masks were used).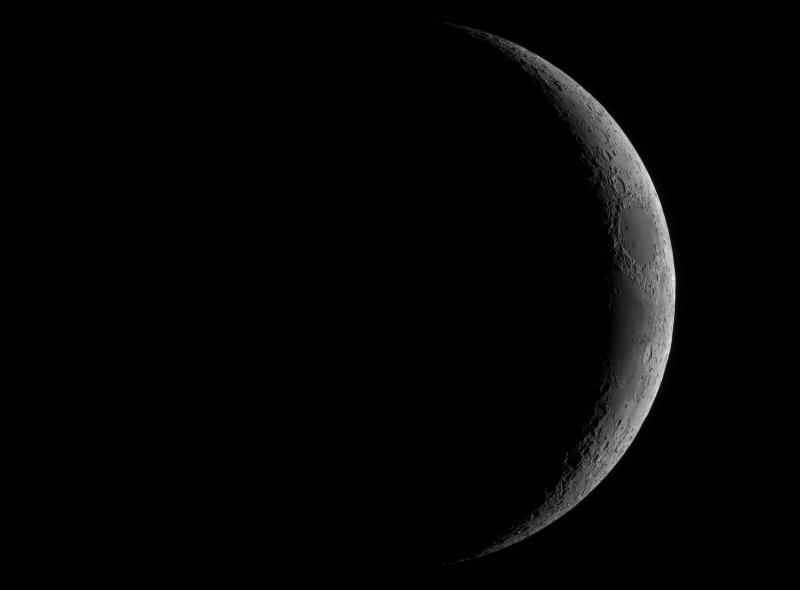 If I raise the gamma somewhat I can start to see the limb of the Moon against the background sky, although you may have to go into a dark room and raise your monitor brightness to see this. Also, I had to add some noise to the image to prevent banding from appearing. I probably should have imaged at a higher gain, but I was trying to stay low to maximize dynamic range of the sensor for this shot.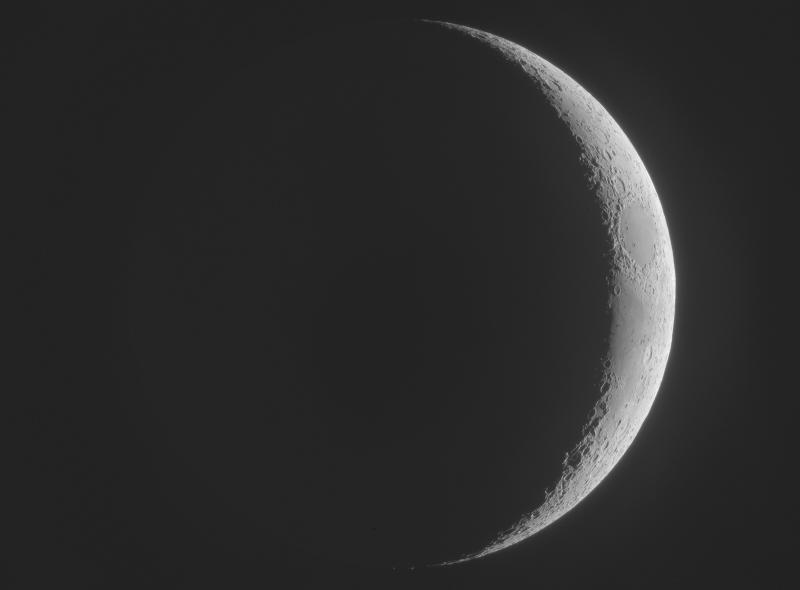 Now, so far I wasn't overly impressed with what I was getting, but I found I was able to dig considerably deeper into the night side of the Moon. It recently came to my attention in one of Andrew's threads about color (link here), that the stacked output files from AS!3 are linear tif files, without any gamma encoding information embedded into them. In this respect they are very different from the raw files that you load into Photoshop from your DSLR or mirrorless camera, which have all been rendered by a raw converter (such as Adobe Camera Raw), and this applies a gamma correction so that the image displays properly on your monitor. The linear files from AS!3 don't have any gamma correction, and so Photoshop displays them as overly dark. Essentially, they appear as if you were to take a normal image of the Moon and apply an inverse gamma curve to that image. This information isn't terribly important, because you always adjust the tone curve to correct this in editing (although many people don't seem to realize the raw image is displayed improperly without any gamma). However, I found that Photoshop seems to struggle with extracting all of the available data when it loads the linear file into whatever working space you are using. So I used the editor RawTherapee to define the raw file as a gamma=1 linear image, and then output the file using the color space RTv4_sRGB. The image basically looks the same as if you loaded the linear file into Photoshop and applied a 2.2 gamma multiplier, except that it contained way more data buried at the bottom of the histogram. I have no idea why this is the case, but when I adjusted the exposure on top of this new base image, many more details became visible on the night side of the Moon.
Shown below is the resulting image.