These are some images that I found on an old hard drive I was going through (I've had a bit of extra time these days, but not so many imaging opportunities). These have never been posted, and represent some of my early imaging runs after purchasing my first astronomy camera, which was the ASI224mc. Back then I imaged all the time, even if conditions were poor, and so most of the old files are garbage. There are, however, some very good sets mixed in there, including this one. These were taken with my C9.25 Edge HD, with the ASI224mc and a 2x Televue barlow on July 15, 2017. I used a UV/IR cut filter, so the original image is in color, but I have converted the images here to B/W because of some annoying color fringing that I didn't care to deal with.
The first image below is a mosaic of 2 panels. You can quickly see how small the panels are, and why I now image the Moon with a much larger sensor! Clavius and Tycho should be obvious to most, and Moretus is the prominent crater to the upper left of Clavius. The central peak of Moretus is creating a sundial effect with its shadow. I have accumulated many images of this region of the Moon, but it never gets old. Definitely one of my favorite regions. The image here is downsized to about 70% of the original size.
The second image (in the next post) shows Plato, with many craterlets visible on its floor. The orientation here is somewhat interesting, just by virtue of the way I had the camera rotated, and we have the appearance of looking up Vallis Alpes, which is starting to take on many long shadows as the sunset terminator approaches. I downsized the image to about 85% of the original.
Click for larger size.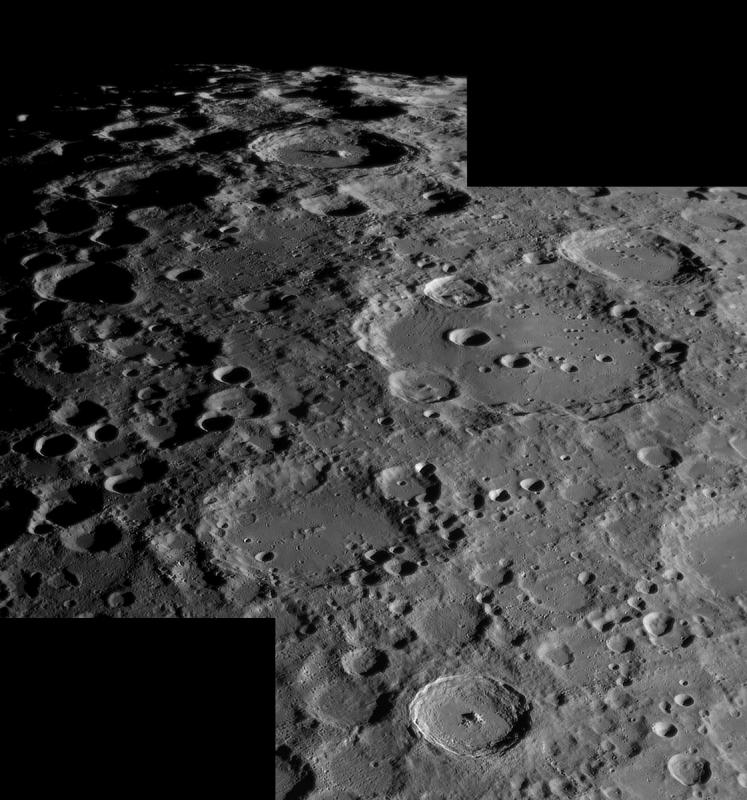 Edited by Tom Glenn, 29 March 2020 - 04:23 AM.