During this time of the recent worldwide pandemic, I find that AP is a great distraction when the weather allows us to do AP. I had tried to capture the Seagull nebula from my high LP backyard with typical SqM readings of ~17.8-18.0. So, I had a lot of difficulty to get much of the nebulosity to show up when I tried it the last few times. However, this time, with the help of the dual band filter, better processing software and know-how, I was able to bring out the Seagull nebula to its full glory.
The Seagull nebula is a 100-light years wide star nursery on the border of Monoceros and Canis Major constellations. It lies ~3800 light years from us and it has many interesting DSOs. They include the half circular nebulosity of the Seagull's wings (Sh2-296), the head of the Seagull (Sh2-292) and a few open star clusters of young stars. There is also another Sharpless catalog object, Sh2-297, on the right wing of the Seagull, that is not in our FOV. So, here is the image we managed to get :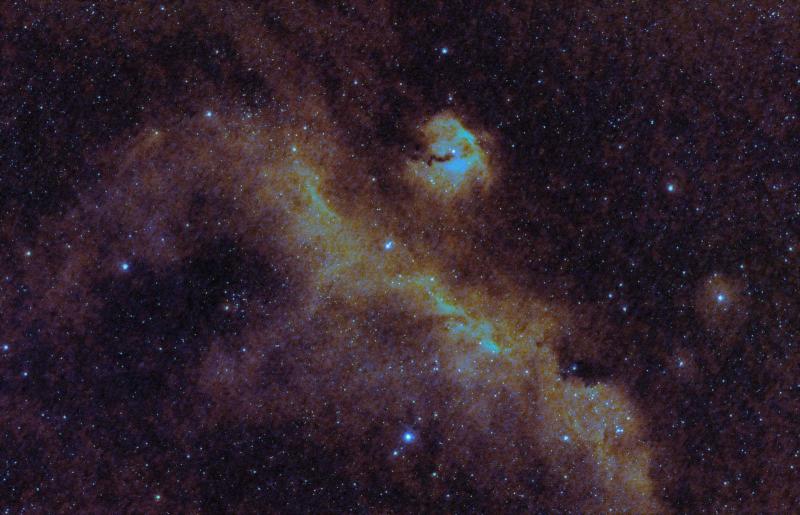 Capture details :
OTA : Stellarvue Access 80mm scope with a 0.8x focal reducer and a dual NB filter (from Omega Optical),
Imaging camera : H-Alpha modded Nikon D5300,
ISO 1600 at f5.6 and a total integration time of 140 minutes (70x2minutes) - all unguided,
Registered & Integrated in APP (Astro Pixel processor), APP was also used for LP removal and star color calibration and then post processed in Star Tools to bring out the nebulosity.
A higher resolution image can be see in the following link :
https://www.flickr.c...57712379015033/
In the same Flickr album, I have also included an almost starless version that highlights the nebulosity.
Thanks for looking. Stay safe & clear skies ..... Anil
Edited by AKHalea, 30 March 2020 - 06:03 PM.