G'day observers,
I was compiling my tome of data spanning 3 years on the Carina Nebula last night. To my amazement, I found a bright new star a year into the data at RA 10h36m15s DEC -59˚35'54". A quick Simbad check showed I had inadvertently captured nova ASASSN-18fv at three points at almost yearly intervals: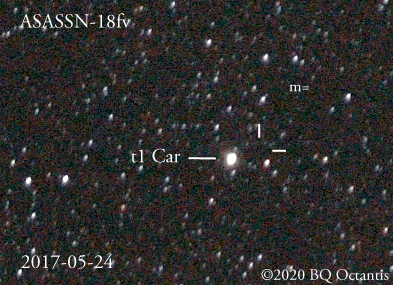 I didn't find any observation reports on it beyond shortly after it was first discovered (not that I searched very hard), but as of last month (two years after it appeared ex nihilo) it's still burning brightly…
Cheers,
BQ
Edited by BQ Octantis, 01 April 2020 - 02:29 AM.