Well, after a long hiatus in using my binocular chair, I pulled it out of storage and worked on reassembling all the parts. With the present complications in life due to the corona-virus pandemic, I wanted an easy-to-use setup for viewing the night sky during infrequent breaks in the cloud deck. So my 10X50 binoculars seem like they would be enjoyable with a swivel bino-chair.
Last year I had these nice 10X50 binoculars serviced by Harry at Seibert Optics. Despite the shipping box being manhandled by gorillas in the USPS shipping department, I finally got them back in perfect shape and collimation. Kudos to Harry. If/when I send my 15X80s in for service, they will be protected by a wooden box inside a cardboard box. Then the gorilla crew can have fun trying to flatten the package without damage to the optics.
Considering the cost of service and shipping, I may just sell the 15X80s with the disclosure that they need collimation. They may be worth a few bucks for someone with skills to collimate or funds to have professional service. I'm thinking that just buying some nice binoculars from Oberwerk would be best. These models have caught my eye:
Number 1 and number 4 have my attention. The 15X70s (#1) have reasonable price and optimum exit pupil for night time use (4.7mm). While the performance isn't premium neither is the price. My own 15X80s are quite heavy for handheld use. So the lighter 70mm apertures would be nice. The 10.5X70s (#4) have also caught my eye having the 70mm weight advantage, but with an exit pupil a bit too large for my old eyes (6.7mm). My exit pupil would reduce the effective aperture, but it would be the brightest 10.5X view possible under my circumstances. This is no worse than using most any binocular under daytime conditions when one's exit pupil reduces the effective aperture. In any case the Oberwerk website has this to say about that particular "Ultra" model:
"Oberwerk Ultra Series are our highest-quality mid-size binoculars, available in your choice of 10.5x or 15x magnification. The 10.5x model is the sharpest in the entire Oberwerk product line, with performance that exceeds even the finest Japanese brands, for about half the price. Incredible sharpness across almost the the entire field. Very rugged construction with precise individual focusers. Of course these are fully broadband multi-coated, waterproof, and nitrogen charged. Includes our new-for-2017 Oberwerk Heavy-Duty aluminum-frame case. Also includes the Oberwerk Heavy-Duty L Adapter and our premium heavy-duty denim strap.
Considering the reduced effective aperture for the Ultra 10.5X70 model, the 10X50 Ultra (#5) might be a good alternative at considerably better price. I have seldom been disappointed when spending extra for a high quality product. There's an old saying (I made it up myself) that goes like this:
Cheap isn't!
In other words the euphoria of getting something on the cheap will be long gone when the reality of a cheaply made product becomes evident. So getting one of the 5 binoculars referenced above may be something in my near future. That will depend on finances and the approval of my wife, who is still working full-time for her retired husband. I would be interested in opinions, comments of forum members regarding Oberwerk and the binoculars they sell.
On a side note I had an interesting time reassembling my binocular chair tonight. Everything was in pieces: lounge chair, swivel platform, various and sundry metal and wooden parts as shown in the photo: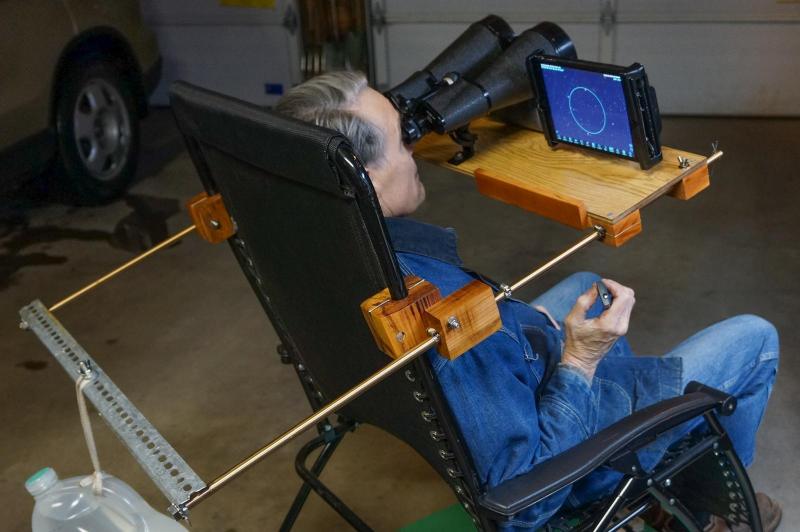 The above view shows the bino-chair & 15X80 binoculars with myself modeling the setup in 2018. It took quite some time to adjust everything to function smoothly, balanced by the high-tech juice bottle counter weight. Here are some other views of my setup.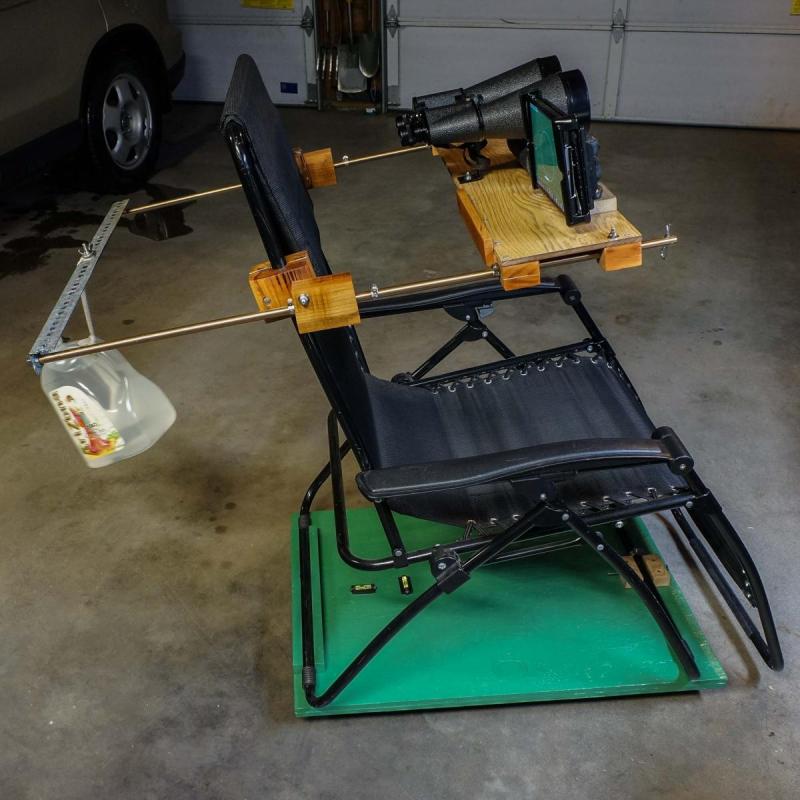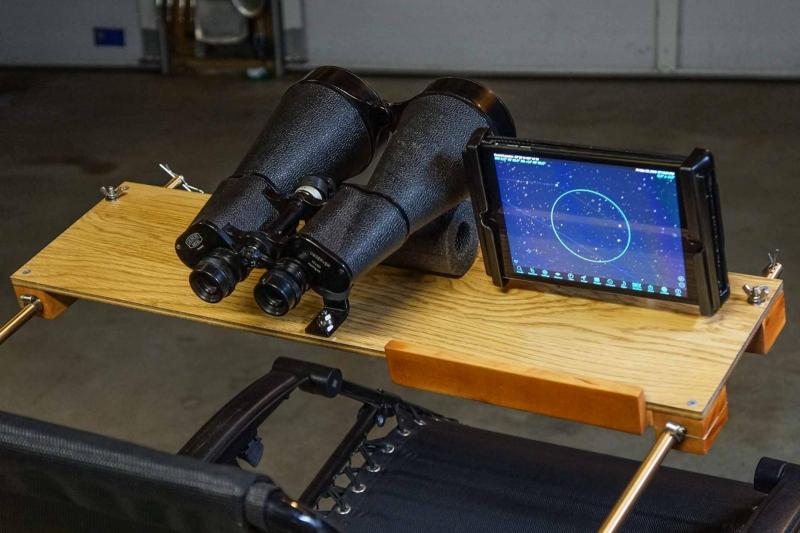 Now fast forward to tonight. I finished assembly of this masterpiece in the dark. But things were not adjusted for optimum use. Not letting better sense deter me from observing, I forged ahead with an attempt to view Sirius with the 10X50 binoculars. Subsequently the bino-chair swiveled of its own accord around to the north. Well (said I), I'll just look at something in that direction. So adjusting the tilt to point the binoculars high in the sky, the lounge chair went in full backward recline position. Before I had time to react, the whole assembly tipped over backwards. I found myself laying flat on my back with the bino-chair under me, feet in the air, the swivel platform having tipped up on its rear edge.
After I finished a round of maniacal laughter

I asked "How am I going to get myself out of this mess?" (I should have tried out as stand-in for one of the Three Stooges.) But I did eventually manage to extricate myself from the mayhem, with no damage to myself, the bino-chair or optics. Lesson learned - if possible don't try assembling things in the dark. So I just removed the 10X50s and covered the whole assembly with a tarp. After the predicted rain storm for tonight, the bino-chair will be there for me to properly adjust, with good lighting and renewed senses.
The whole experience was good for a laugh

. When I told my wife what happened, she offered this advice - "If you needed to be rescued from your predicament, you could have just called me on your cellphone". While the phone was on my belt, I don't know if I would have enough presence of mind to have thought of that. In any case that was my recent experience getting back into binocular astronomy. I hope you enjoyed hearing my experience. Please give consideration to my request for comment on the binocular purchase.
Best Regards,
Rusty