In the Double Star Forum Aubrey Posted:
_____________________________________
As you know I very much admire carbon stars.
And there are at least 4 in Pyxis.
I cannot imagine catching one of these.
I would have to drive down south to Wexford to see them.
They are:
1. YY Pyx.
2. R Pyx.
3. UZ Pyx.
4. UW Pyx.
If you have the time and sky conditions, I would love to see an image of maybe one of them over on the Observational Astrophysics Forum.
But no pressure if you can't.
Kind regards,
Aubrey.
_________________________________________________
Well Aubrey I managed to photograph all four of these (barely). I have a limited viewing window for imaging objects at low declinations and that window put all of these objects only visible to me shortly after sunset - not the best of conditions for capturing color. There was also the full moon to contend with as well.
Anyway it was do it now now or wait 7 or 8 months for them to come back around.
Here is R Pyxidis - a very nice carbon variable which sits at -28 dec, the most northerly of the four and perhaps the most interesting. It has a nice range of variability (mag 9 to 12) and more interestingly a period of almost exactly a year (364.5 days) . It so happens that its maximum occurs on or around April first every year - just a few days prior to my image.
I measured its magnitude in Astrometrica at 9.0 but being such a red star the magnitude measure could be off a bit. Anyway my photo shows it at its maximum brightness. I will post the others when I get a chance to process them.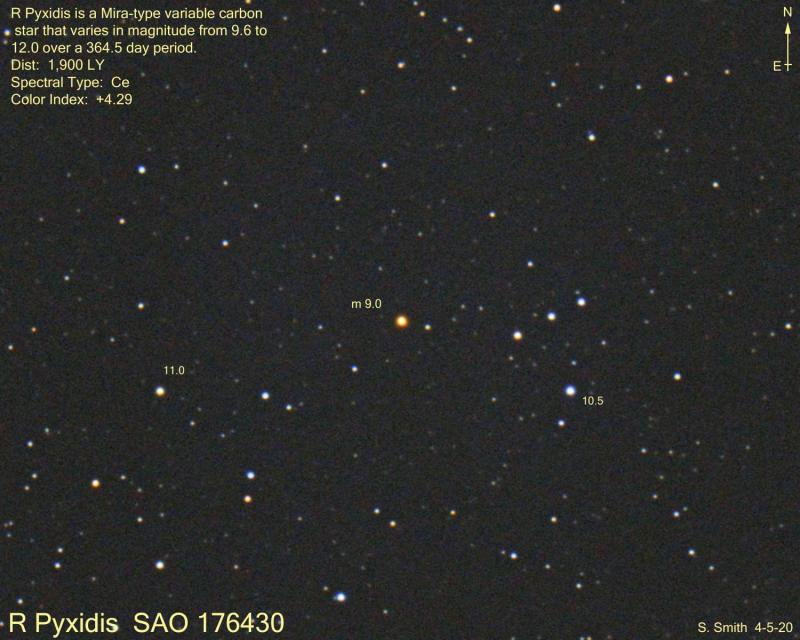 Edited by ssmith, 07 April 2020 - 12:36 PM.