But apparently not. But let's not get ahead of ourselves. Let's jump back in time a couple of days.
Saturday night was beautifully clear here and I was observing the Moon, high in the sky, with my APM 152mm f/8 ED and Zeiss binoviewer. The seeing, unfortunately, was not all that good. I began playing with my many barlows and GPCs, to find the best combinations.
Now, I've always learned that the best way to use a binoviewer is to use a barlow *ahead* of the binoviewer, since this means that the binoviewer will see a less steep light cone (much longer f/ratio) and this will mean that it will introduce far less aberrations. It also means that you can use a long focal length eyepiece with good eye relief, which will be more comfortable to look through. Overall, this should give the best image.
Or so I thought.
One of the combinations was a 2" 2x ED barlow attached to the 2" nosepiece of the binoviewer, with two 25mm Zeiss microscope eyepieces, and inserted into a 2" Baader/Zeiss prism diagonal. The image was indeed very fine. The measured magnification of the barlow in this configuration is ~2.65x (depending a little on the location of the image plane in the eyepieces) and the resulting magnification was ~127x.
On a whim, I tried a combination of Baader/Zeiss T2 prism and binoviewer, with no barlow/GPC and a pair of 9mm UO VT orthos.
Imagine my shock, when the image was unquestionably better than the first combination! It was crystal clear, with fantastic resolution and contrast. I hadn't really been aware of it before, but there seemed to always be a small amount of stray light somewhere in the image, sometimes across all of it, sometimes quite obviously so, when I was using a barlow or GPC. This was completely gone now. Going back to the barlowed configuration and it was suddenly all too apparent that it was a little bit washed out. The difference was not always huge, but it was definitely there. Sometimes it WAS huge, namely when the diverging lunar rays hit something bright and shiny inside the binoviewer. I've more or less always accepted this as a part of the game, accepting it as unavoidable, but when using the non-barlowed setup, there was NO such reflections and the image was stunningly good.
I tried many different combinations now and always found the simple setup with prism+binoviewer+eyepieces to be markedly superior - at least in this telescope. I did a star test of the prism+bino setup and it was BETTER without a barlow or GPC, which flies in the face of everything I thought I knew. It was sharp and clear even with a 4mm ortho!
I know that my APM works better with a large 2" prism diagonal than it does without one (or with a mirror diagonal), but apparently this goes so far as to also be true for a prism PLUS binoviewer! I never expected this.
The shortest focal length eyepiece pair I could try was 7mm and that was with a 7mm UO VT ortho in one eyepiece holder and a 7mm Kokusai Kohki 0.965" ortho in a 0.965"/1.25" adapter in the other! Amusingly, the apparent fields and focal lengths matched PERFECTLY and a perfect merging could easily be achieved! Even more amusingly, the 0.965" ortho was distinctly a little sharper and brighter. Overall the image was extremely sharp, contrasty and pleasing to behold. I tried a 6mm Baader Classic Ortho, the highest the seeing would support in the fleeting moments of best sharpness, and the image was still extremely sharp, when the seeing allowed. I've earlier had some mixed results with the 6mm BCO, but it performed extremely well in the bino and 6" APM ED.
This throws a monkey wrench into all my eyepiece plans. My initial tests suggested that a pair of good 15mm's and 12mm's, barlowed to the desired magnifications, would be the best approach, but after the results from Saturday night, I guess I can scrap this. Now I need pairs of short focal length orthos or other high resolution, high-contrast eyepieces. I guess going the ortho route is the easiest one. Getting another 6mm BCO seems to be the logical first step. Getting more UO VT's would be good, but they're not available new anymore and don't pop up all that often on this side of the pond, so I guess I'll go with some Fujiyama orthos instead. Comments and suggestions welcome.
Attached (slightly unsharp) bonus pic of my 6" APM looking at the Moon.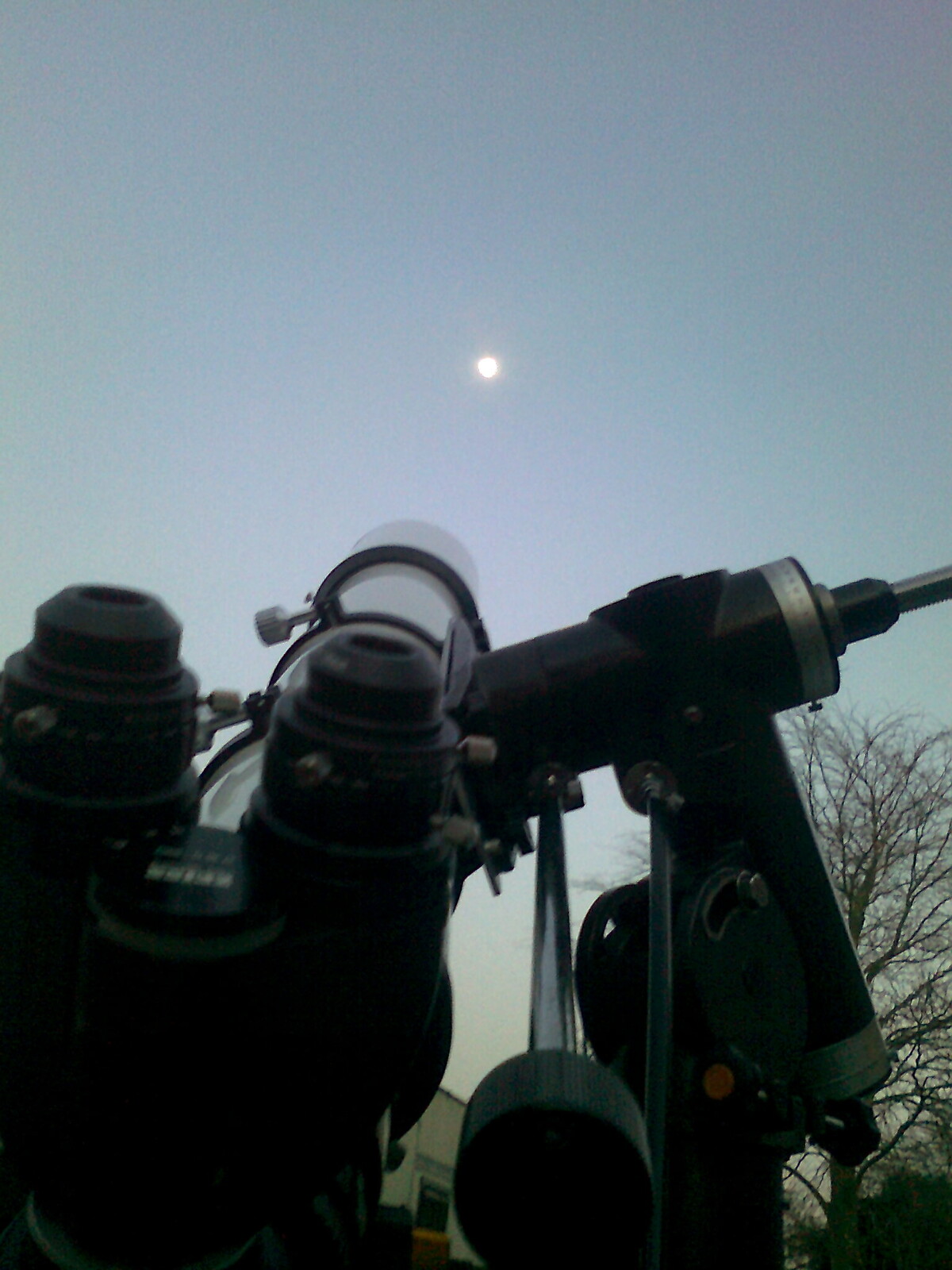 Clear skies!
Thomas, Denmark