Hi All,
I hope each of you are keeping well. It certainly seems that we are making the most of our 'down-time' at the moment. So many wonderful sketches are being submitted daily to this forum - I can barely keep up

In saying that, I am pleased to submit my April Moon sketch.
The sketch was completed last night when the Moon was 98.5% illuminated and libration was favourable to observe Riccioli Crater. I had not planned to sketch this crater. Admittedly, I was blissfully unaware that it even existed before last night. However, a very thin, but rather distinguishable black line running from its rim immediately caught my attention as I scanned the terminator. I believe the name of this lunar feature is 'Rimae Hevelius', but correct me if I'm wrong.
As I increased the magnification to a 9mm expanse, which has a 66° AFOV, and then added 2X Barlow eyepiece, I could see Lohrmann, and many other craters either side of the Rimae Hevelius'. One of the nicest lunar features I have seen thus far has to be the five craters on the western side of Rimae Hevelius. These include Lohrmann M, B and F. In a way they remind me of the inner craters of 'Clavius' only nicer - what are your thoughts on them?
As I sketched the main crater, I was stunned by how quick the shadows were changing. I started the sketch at 23:43, and by the time I packed-up at 00:27, the main crater and its surrounding environs looked quite different. For example, what appeared as a black square box with a white circle in the middle of it - on the far eastern side of the main crater - was completely washed-out by the sun's light.
I found it quite tricky to polish-up the sketch at the eyepiece as it can be difficult to use precise movements with an eraser under a dim red light. So, I continued to work on it inside by trying to improve the shading, and lighting in and around the crater. Hopefully, I have managed to produce a sketch that somewhat reflects the actual crater. While I feel the inner crater and outer cratlets resemble what I observed, the area between Riccioli and Grimaldi I feel is is too steep. I just couldn't figure out how to flatten the slopes with my pencil and blending stump. So, if anyone has any suggestions on how to achieve that I'd love to hear from you.
Other details from last night's sketching session include:
Location: Dundrum - Bortle 8
Seeing: 6pk
Transparency 5
Instrument used: f/8 150mm Newtonian Reflector
Eyepieces: 32mm Plossl; 24mm Plossl; 9mm, and 6mm Expanse (66° AFOV), 2X Barlow Lens
Materials used: 2B, and BB graphite pencils, normal and kneaded erasers, an eraser shield, and various sized blending stumps. The image was sketched at the eyepiece, and cropped and reszied using GIMP 2.0. The sketch was photographed on my phone, and I tilted the phone to an angle of approximately 45° when taking the photo.
As always many thanks for taking the time to read the above, and your comments and feedback are always welcomed.
Stay safe, and clear skies to all.

Darren.
I forgot to mention that I used better quality paper than I have used in the past. Instead of using regular white printer paper, I received a gift from my sister-in-law. The paper she gave me is A4 170gsm - beautiful stuff.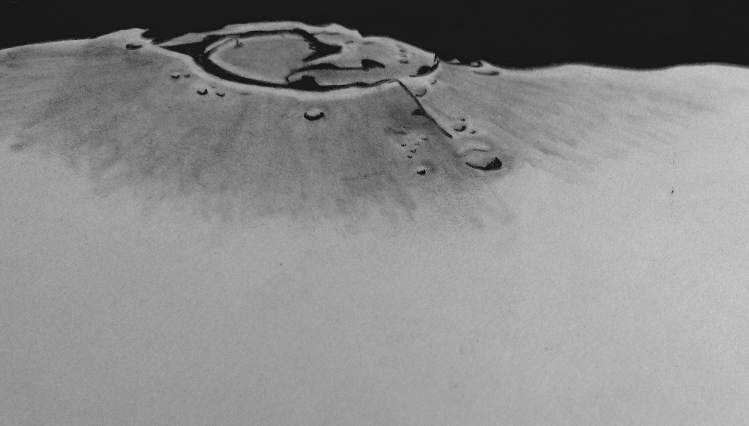 Edited by DDEV, 07 April 2020 - 06:17 PM.