One of the things I did since last November is to finish scanning and logging my astrophotos in a spreadsheet. 576 entries excluding the multiple planet shots not worth anything because of bad seeing nor the 2 nights exposure log entries that got negated due to the film not advancing. 2 nights of film are missing, but the original darkroom prints are in my albums. Only one of my photos survived since my childhood in 1971. The negatives from that era were destroyed by one of my teenage sisters filling the tub and leaving it 'for a minute'. That overflow leaked down into the darkroom and destroyed my negatives in their glassine sleeves. Remember those sleeves that yellowed with age?
The range starts from the one in 1971 to several star trails in 1978 and 1983 in 3 locations. The guided shots started with the buying the 10" Meade Newtonian with the astrophoto package in 1984. That scope has been severely modified since and is still used. The JMI 18 came in 1991 bought used with a 17.5" Jerry Wilkerson re-figured mirror in it. That was changed to a full sized 18" mirror later. The cameras used was a thrift store box camera in 1971, Olympus OM-1 and a Mamiya RZ-67 medium format camera. Various lenses were used by the OM-1 and RZ-67 bodies for constellation shots. I used these shots to find nebulae to shoot with the 10" and later the 18". Recently I stitched the summer milky way images together taken from the RZ-67 body with a 110 mm at F/2.8 lens. That lens was used in some of my CCD shots with a homemade adapter at F/5.6. That camera, accessories and lens got stolen several years back.
These images were scanned full frame with a 16 bit depth with the setpoints a little beyond the saturation and black. Processed in Photoshop for cleanup and final tweaking. Pixinsight for the odd background gradients and deconvolution sharpening. A lot of surprises found that the darkroom prints didn't expose!
Two of my shots of the Double cluster done with the 10" and its changes. This one 8/13/1985, Kodacolor 400 print film, 10 minute exposure. Bare bones DS-10. Note the coma on the edges.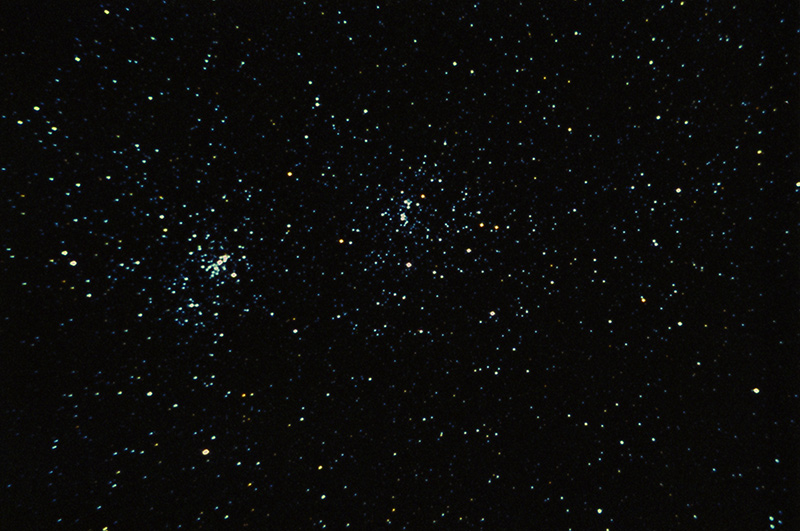 This with a low profile helical focuser installed. Lumicon field flattener and sky pollution filter. 7/25/1990, Kodak VRG 400-2, 20 minute exposure with a Beatty Intenscreen focusing screen added to the OM-1 with a magnified finder from Spiratone.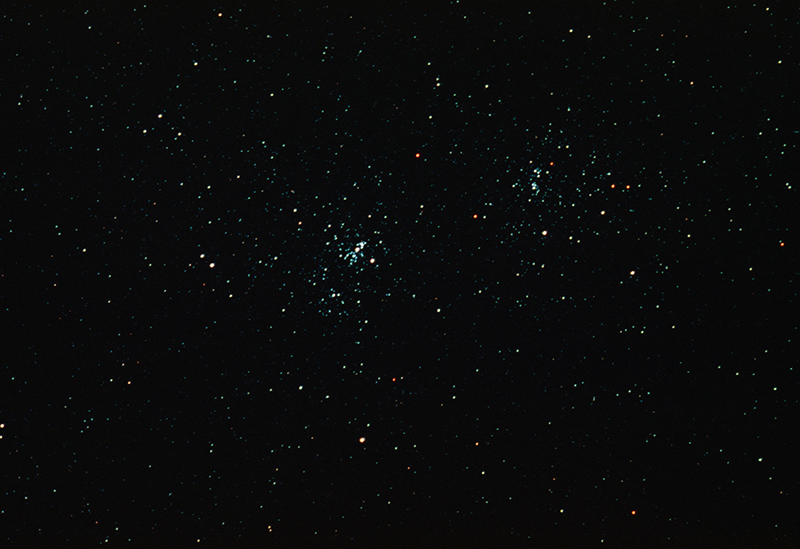 Joe