The C-mount's 22mm aperture limits the NV sensor's fully illuminated field to a focal ratio of 3.6 or higher (see Eddgies description at this link:https://www.cloudyni...4#entry10134960). That can be mitigated by utilizing a lens with a rear element that extends back into the NV housing. The ENVIS lens does this, but it is expensive, as are the afocal magnifiers for the ENVIS-- and they still introduce vignetting.
I purchased a Night Owl Cyclop lens cheaply on Ebay. It is an 80mm f/1.7 that I wanted to use without significant vignetting. In order to do that, I had to eliminate the c-mount restriction. So, I went at it with a Dremmel: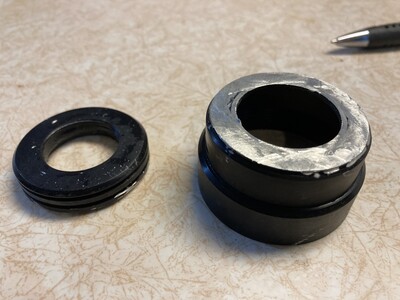 Obviously, I have some painting touch up to do, but it was good enough as-is for testing. It goes back on the PVS-7 without the front section. With the addition of the adapter that I describe below, I can confirm that I am able to utilize even my 50mm f/1.2 with minimal vignetting.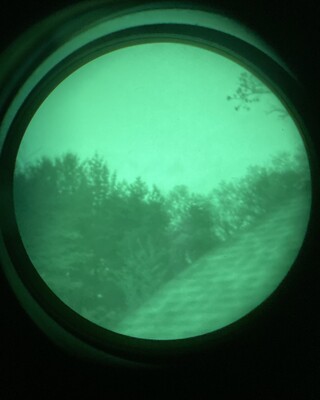 I would recommend this mod to other brave PVS-7 owners willing to cut up their expensive c-mount adapter. I do lose the ability to use cctv lenses. But, for about $75 invested, I
can use my favorite (and inexpensive) camera lenses will minimal vignetting,
can have more control over placement of filters and focal reducers
don't need to purchase a c-mount to filter adapter that is otherwise needed, and
can operate the PVS-7 at the fast focal ratios (ie. f/2.8) of the astrograph I hope to one day purchase without vignetting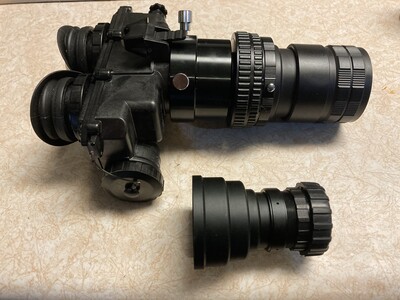 Edited by DavidWasch, 16 May 2020 - 04:29 AM.