Hi everyone,
Last night I spent about four hours imaging the North America Nebula with my new WO Spacecat 51. I used my stock Canon 6D (full frame) with an Orion Atlas EQ-G and had okay guiding for this image scale (1"-1.4"). I also used the WO Canon EOS DSLR adapter to ensure the right back focus was achieved.
I noticed at the top and bottom right corners of my frames the stars were slightly out of focus, having a "doughnut" shape. This concerned me, since the center of the frame looked razor sharp, and I am worried the scope might be faulty. I read online that others have had similar problems, but do any of the more experienced astrophotographers out there know if this is a scope defect or user error? I'm wondering if I should consider sending the scope back, or if maybe my expectations are too high considering I am using a full frame sensor. Is their a known way to fix this? I have attached a single frame and a cropped image of the top right corner of the sub for reference.
Thanks in advance for the help; I appreciate the wealth of knowledge everyone here brings!
Ben
4 minute sub of North America Nebula: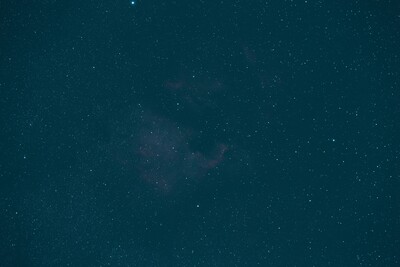 Top right corner of sub: