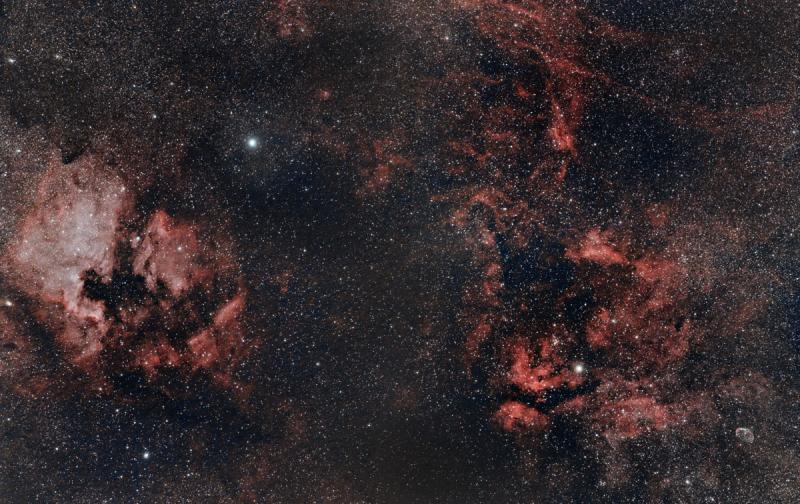 This is just to say thanks to all those who have helped along the way. I haven't been doing this for very long but I appreciate what others have contributed to my knowledge by either posting tutorials on web pages or YouTube or in this forum and answering my questions and aiding along the way.
My equipment is limited but I am trying to stretch it to its limits and I am happy to be learning along the way.
To explain the image above... I took exposures with my SONY A6300 and SONY 70-200mm F4 at 200mm. Neither one of those are ideal for astrophotography but both are light weight and can be "managed" in their limitations. Personally I find the compression algorithms inherent to the SONY camera the most difficult to overcome. It is a bit of a balancing act trying to get enough data with the lesser amount of artifacts. I did use an STC Duo Narrowband filter to improve on my Bortle class 5 zone skies but with less noise in the background the exposure time for the SONY camera became more critical. I settled on 60 minute subs at F4.0 even though stopping down the lens would have been better for sharpness but I was already pushing the limits of the star tracker at this exposure length. The Star Adventurer is very portable but 30 seconds subs would have worked better. The periodic error of the mount resulted in throwing away 50% of the subs at 60 seconds. That amount of wasted frames could have been improved with autoguiding which the mount can do in the RA axis only or by taking many more 30 second subs but processing those many frames in Pixinsight would have taxed my computer. I ended up with about 300 good frames for each panel. There are 4 panels in total and I spent an hour every night trying to aim at the correct coordinates. I solved that by aiming roughly where I wanted then sending an image from the camera to the phone and plate solving online through Astronomy.net then repositioning and plate solving again until I was as close to target as possible. Then it was on to Pixinsight to calibrate, select, align and integrate the subs. I used Photoshop to merge the panels as it worked better than Pixinsight at blending and not creating artifacts. Then the final adjustments to the colors, denoising and contrast were shared between Pixinsight and Photoshop.
In the end the Star Adventurer and the photography camera and lens aided by the filter and editing software results in a light weight and portable setup capable of getting nice images. I am very happy with the results. I have certainly been bitten by the astrophotography bug and would like to improve my setup in the future and continue to enjoy imaging and "seeing" the beauty in the sky that our eyes can't quite capture.