Since I started doing astrophotgraphy I've been using APT, but when I got an autofocuser I decided to switch to nina. Last night was first light for the new software and focuser and at first it seemed to go well, but when I checked the frames after the imaging session it was clear that most were out of focus. Running the subs through DSS and plotting the frame number VS score confirmed this suspicion, with only one focus seeming to be successful. Normally I'd mess with settings until I got everything working, but for some reason I'm missing a bunch of settings options in the advanced focuser options. It doesn't appear that I got a corrupt version of nina as everything else seems to be fine, but some really crucial focuser settings are just missing...
For the time being I'll do what I can with the information I have. Once the sequence starts it appears that all the autofocusing is done internally (unless I'm missing something) but the first focus I did (manually initiated) gave me a decent V curve. It's clear where backlash is present so hopefully after adjusting backlash settings this problem will be fixed. However, if anyone knew how I could get access to these missing settings it would be a huge help. For example, nina stops guiding when focusing and as a result my object drifts across the field of view over the course of the night. (one of the missing settings would disable this feature)
I know nina isn't super common, but any help would be greatly appreciated, even if it's just general autofocusing tips.
In case it comes up:
Camera: ZWO ASI 183MM pro
Scope: William optics Zenithstar 73
Focuser: ZWO EAF
Mount: Skywatcher eq35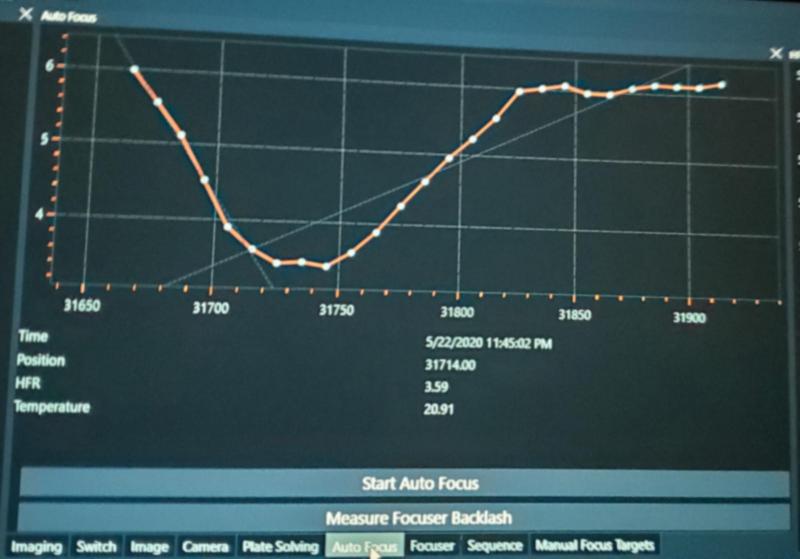 These are all of the focuser settings I get. Also, the backlash setting I have in there is accounting for the graph.
Edited by Chaz007, 23 May 2020 - 02:07 PM.