I just received a used ASI533MC Pro and it has some strange color balance issues. I've seen other threads about this camera showing a double peak of the histogram when taking flats. That thread was a bit of a disaster with really bad advice being given to the OP about flats that had nothing to do with his problem.
When I got my camera in, I started building a dark library and immediately noticed a similar effect. All of my bias and dark frames have a strong blue tint as seen here in this 20 second master dark.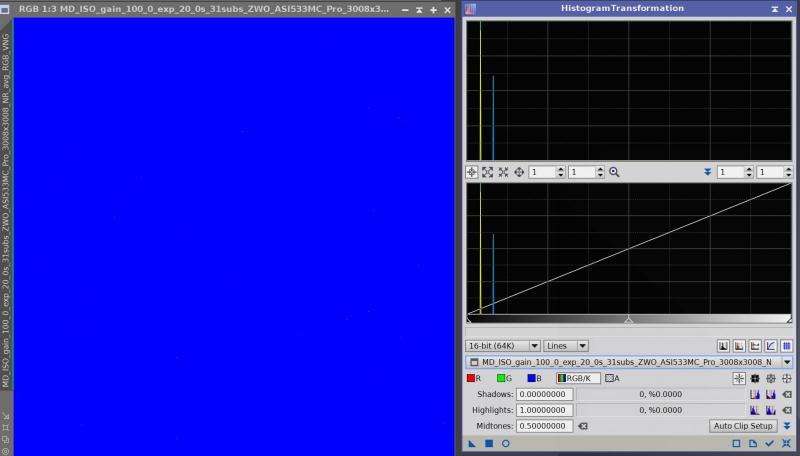 I couldn't find any settings to change this in either N.I.N.A or SGP using the native windows driver or the ASCOM driver. Finally, in the ASICap app, I found a color balance setting, this is the only place I've seen the setting.
When I click "default" it sets the blue to "95" and the red to "52", whatever those numbers mean. That results in a double peak histogram as shown in the ASICap software:
When I manually set both red and blue to "50" the three channels are all balanced.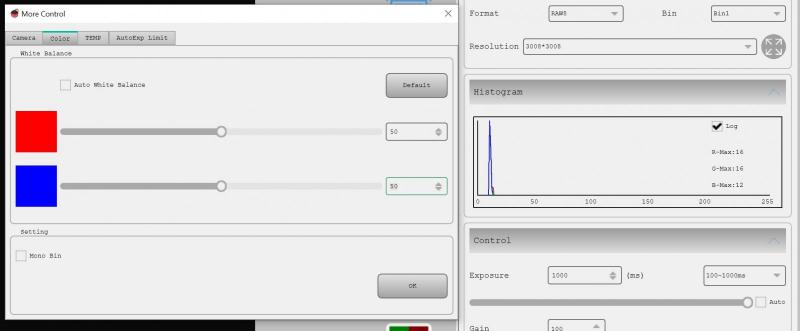 After setting blue and red to 50, I went back to NINA and reshot the bias and darks and the result is as expected: Each channel has an equal amount of bias noise / dark current.
Any thoughts on what is going on? Why is blue set as default in the camera/driver to 95? What does 95 mean? Why is the color balance setting only accessible from ASICap?
I have an ASI183MC pro and it was balanced from the factory and I've never had to worry about this issue with it's bias or dark frames.
Edit for future peeps:
The problem is that I was using the ZWO native windows driver which doesn't save the raw data coming off the camera... that's bad. Use the ASCOM driver instead.
-Jim
Edited by kingjamez, 23 May 2020 - 04:22 PM.