While this is not strictly my first attempt at imaging, it is definitely my first attempt at doing it 'the hard way'. I have been doing EAA, and live stacking images in SharpCap. Honestly, the images come out pretty nice considering all the processing is done on the fly. I could subtract dark and flat frames (with bias) as it live stacked. A little noise reduction as it stacked as well as histogram stretch and voila.
BUT, I decided I wanted to take the plunge and learn SGPro because I want to sleep. We are heading toward summer and even at my modest latitude of 38 and a half degrees, the skies aren't dark until 10. I'm old and need my sleep. I bought and learned SGPro with OSC over the last couple of days. I got it working and even did a meridian flip. I watched it, because I am the nervous type. As soon as I saw it happen, I was satisfied and went to sleep. I awoke the next morning to a (not quite complete) stack of images. The last image was foggy, so I guess I got some dew and SGPro shut it down because PHD2 couldn't find a guide star. I managed a little over 2 out of the 3 hours I 'scheduled'.
THEN, I had to take a crash course in processing. I stacked in DSS which is very straightforward, and then processed a little in GIMP. There is a ton of noise because its only 1.5 hours of useable frames. I will try to add a few more hours tonight. I did do a master dark and flat, but the flat is definitely no bueno because I got weird corners. I cropped them out.
Just for giggles, I am also including a SharpCap version: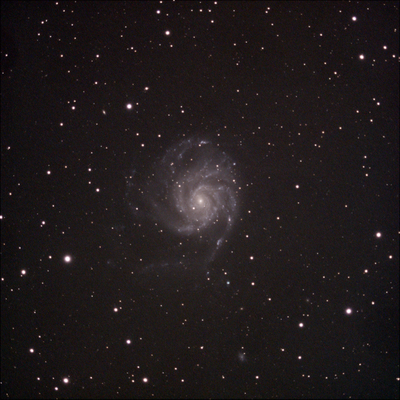 60s subs x 34 for a total of 34 minutes