Good Grief! My 1st Love thread was for a... reflector. What kind of life-long Refractor Fan am I? Okay, here's my make-up thread...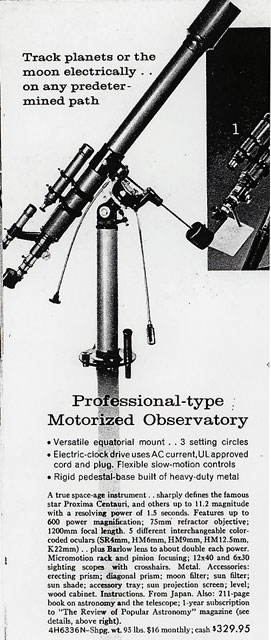 Yeah, I'm talking about my 1964 Sears Model 6336 Professional-type Motorized Observatory. It was the first scope that I spent more than $1000 for, and here's what I got:
Dusty & dirty, but otherwise mint and 99% complete -- missing the cardboard box that the mount & pedestal came in. The OTA & accessories came in a wood case with Styrofoam inserts.
While this model is rare, the Astro Optical 76mm F15 refractors are all over the place, and were branded & sold by other importers. It pays to look for that funky maker's mark on the label!
Edited by Bomber Bob, 27 May 2020 - 06:21 PM.