NGC 2903 and Satellite Galaxy UGC 5086, Leo

NGC 2903 is a barred spiral galaxy in Leo, discovered by William Herschel in 1784. Although it is fairly large and bright, easily seen in binoculars, it escaped Messier's attention. Except for a dwarf elliptical galaxy UGC 5086 at the distance around 1.86 million ly, it has no close companions to disrupt its delicate spiral arm structure. On the large scale, NGC 2903 is a member of the Virgo Supercluster which includes the Milky Way and Andromeda galaxies. The inner spiral arms are beaded with numerous light blue OB associations composed of billions of young, very hot stars, indicating a high rate of new star formation. Immediately E of the nucleus is located a large, bright star cloud separately catalogued as NGC 2905. The galaxy's nucleus is bright in all bands, from radio waves to X-rays, suggesting the presence of a central supermassive black hole with an accretion disk and polar jets.

Limiting magnitude on the attached image is around 19. The most remote identifiable object is galaxy SDSS J093305.61+214041.5, lying at the comoving = proper distance of 1.814 billion light years, and receding at 39,119 km/sec.

Image details:
-TSAPO100Q astrograph, Sigma APO 1.4x tele-extender (100 x 812 mm)
-iEQ30pro mount, Orion 60mm f/4 SSAGpro autoguider
-Canon T3i modified camera, Astronomik L3 filter
-24 x 300 sec subs, ISO 1600, 30 dark and 30 bias frames, 2x drizzle, 25% crop
-Software: PHD2, DSS, reprocessed with XnView and StarTools
Thank you for looking.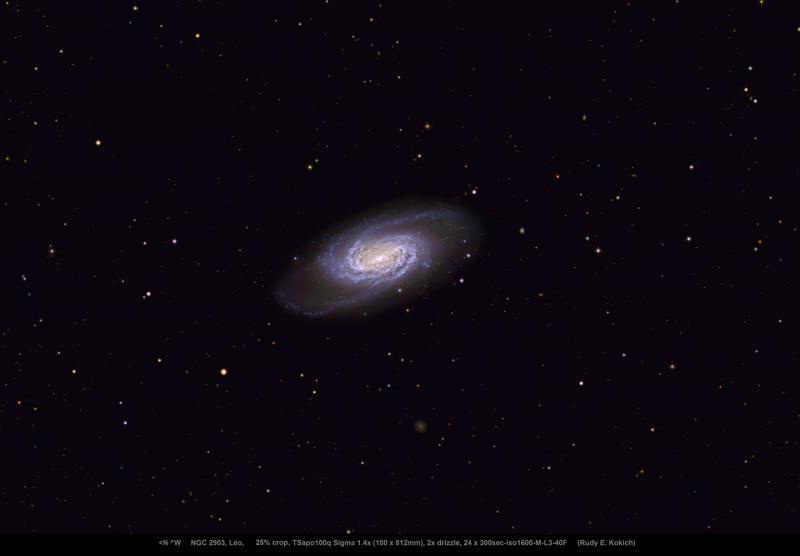 Edited by rekokich, 28 May 2020 - 03:57 PM.