First off, nothing broke or was damaged in anyway...just a mental stupid that I completely forgot about!
Worked up a platform to attach my DSLR, 50mm finder and 50mm guide scope. Since I deforked my scope a number of years ago, I haven't done any astrophotography using just a camera lens and my camera. That is due to fact that when using my DSLR, an unmodified Canon 77D, I rarely could see through the viewfinder to make certain what I wanted was where I wanted -- partly due to view being a little dark, other part because I'd have to crawl on the ground to see through viewfinder anyway.
So, last night I get a chance to try this out and get everything together to check it out. Even with a guide camera I kept getting massive star trailing on 30 second images! I try without using PHD. Same problem. Restart PHD. Same problem. Move to other parts of the sky. Same problem. No matter what I did I had major star trailing in the images. "What is going on?" I wondered. Checked my connections. All good. Dec and RA bearings locked. I looked through finder and star I centered on is still right in the crosshairs.
Then, it hits me. I was using a Tamron 70-200 f2.8 lens....with VIBRATION CONTROL! I left VC turned on and it was trying to correct for the movement it was picking up due to the fork tracking the sky. I turned it off and, gee, surprise, surprise, stars came out perfectly!
Stupid.
Over the years, this is the first time I have ever used a lens for astrophotography that had vibration control. Used my C8 for imaging, an 80mm telescope for imaging, and on my first DSLRs I hadn't had a lens that had VC on them. Just something I forgot to check.
So, I guess the moral of the story is -- Check all your settings!
The attached image below is a 30 second image with VC on. I think I changed my ISO and/or f ratio so difference in apparent sky brightness is due to that. These are both just single frames, no stacking or processing in any way.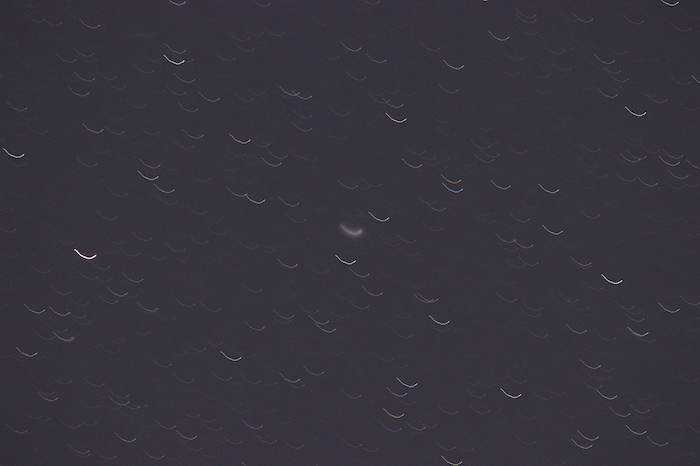 Edited by tclehman1969, 28 May 2020 - 05:09 PM.