I had to fix a new plastic box in my observatory & used a drill to make the appropriate fixing holes.
I moved all the essential cables sideways so I would not drill through anything other than the wood to mount the screws.
However, as always, there was a cable I did not see- and guess what "Murphy" moved the cable so it was exactly under the wood I was drilling through and then entropy stuck his nose in ensuring that the cable was aligned almost exactly with the drill bit- the chances of this happening by chance must be like winning the lottery- it mostly is not going to happen. I drilled straight through the 48V power cable for the Paramount MX+- but as always when doing this work there was no power connected to the accessories.
I proudly finished the job- turned everything back on & no Paramount initialised. I thought the PSU had died in the interim as a meter showed no 48 volts. So I rummaged around & removed the PSU & examined the cable- with the beautiful hole drilled straight through the cable. I was fortunate that there was no power connected & I had an Anderson power-pole kit on hand to repair the broken section of cable. A picture of the damage is below.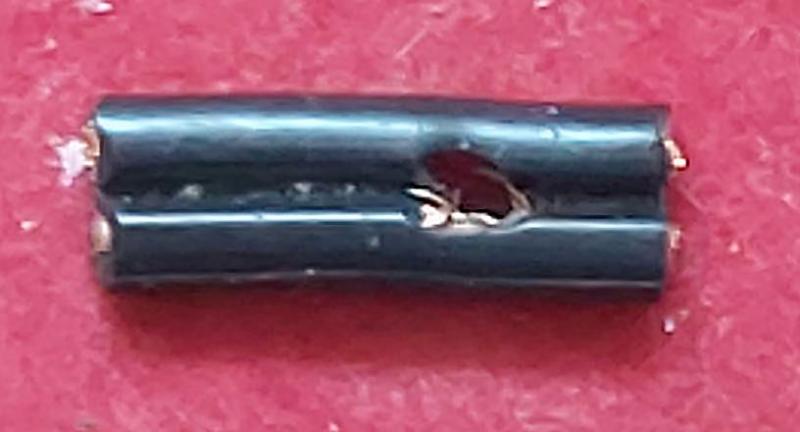 Be careful guys with your equipment......Murphy & entropy are waiting to get you!
Stay Safe!
Best wishes
Mark
Edited by pyrasanth, 29 May 2020 - 02:08 PM.