Recently I've got into astronomy and astrophotography and realized how expensive the field is, so i've been looking for some used parts to start the hobby. Basically I am a complete newbie and know zero about the field so just its clear.
Today I saw the Kenko Skycore M115R "Newtonian?" Telescope in the second-hand store near me, its really cheap and seems to be complete with the equatorial mount and finder, but it is a 40 year old telescope so I'm not sure if its worth it.
Also just for curiosity I pointed my smartphone light into the mirror and looked in the eyepiece and saw really weird spots, its totally covered with what it seems to be mold or moisture of some sort. Also I tried moving the mount into a specific orientation and the screws couldn't hold the telescope weight for some reason.
So the question is, is it worth it? Its 5400 yen, about 50 american dollars, i'm hoping i'm able to fix it by my own but as I stated i am an absolute beginner.
I searched a bit online and I got some info about it, it's in japanese so the translation might be a little wonky.
"Aperture 115 mm, focal length 920 mm, aperture ratio 8
Finder diameter 30 mm, magnification 6 times
The focus adjustment of the viewfinder is a split type
The equatorial mount has a structure in which the German system of the RA system (polar axis) does not extend to the south side, so it can also be used as a tilt mount
It has an azimuth scale. It is a type that allows easy orientation adjustment even after assembly"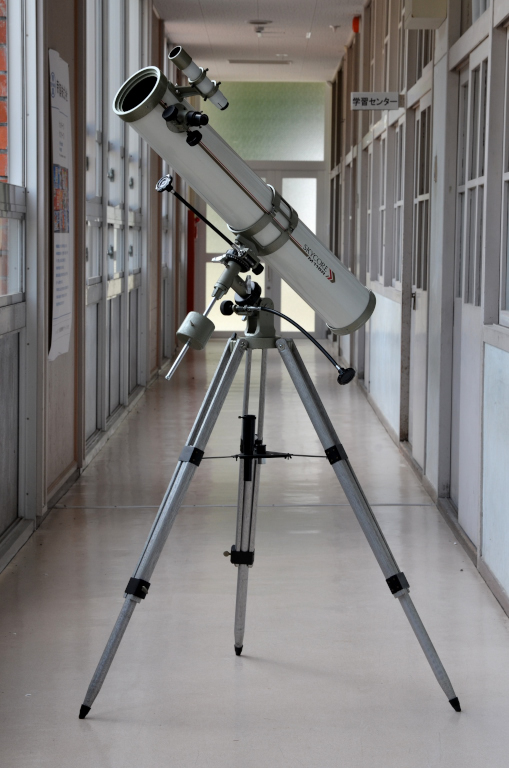 I just signed up in the forum to ask about this telescope because as its sitting in a second hand store it might be gone quick so if its worth it I'd go pick it up, i'm sorry if I miss placed the topic or something else. Thank you in advance anyway!
Edited by Ishihara, 31 May 2020 - 02:49 AM.