Last week, at new moon, I was near the geographical center of Nevada, at Lunar Crater, N/E of Tonapah, a Bortle 1 zone. I was fortunate to be with 5 OFLI observers again; precautions were taken to maintain physical distancing for COVID19 safety. Lunar Crater is actually a volcanic caldera also known as a maar, that covers an area of 460 acres and is 430' deep… out in the high desert of Nevada at about 7500'. We each drove our own vehicles (about 9 hrs driving time) and parked right on the rim. You can read more about Lunar Crater here: https://travelnevada...ckcountry-byway
It's an interesting geological site for sure, and one of our members, Mike P., is a geologist by profession, so he gave us quite a bit more information. Lunar Crater is not a campground. It's on BLM land with no campsites, no water, no tables, no trees, no potty, no paved road, no lights, no towns for 70 miles in any direction… just a REALLY broad expanse of unusual terrain, beautiful in its own, barren way, with inky black skies. This place has the feel of being on a different planet and was, therefore, the training ground for the early Apollo astronauts. They came to be trained in what to look for when they landed on the moon!
When we landed on the rim of the crater late on a Thursday afternoon, all was well. The sky was clear and black the first night, perfect for taking some NV phone photos. But I promised myself I was going to spend time using my equipment for visual observing. I used my TEC 140 with glass eyepieces first and later switched to my Mod 3C, on my alt/az mount with Nexus DSC's and really enjoyed the evening. From home I cannot see Omega Centauri, but from the rim of the crater it was about 5° above the southern horizon and was just as stunning as was the first time I saw it from New Mexico. Weather and observing after that was marginal or worse for the other 3 nights. Friday, a storm front blew through… literally, with winds of 30-40 mph and clouds completely obliterating the night sky all evening. About 01:00 Saturday morning, I looked out and saw stars, got dressed, set up my Newt, and observed until 04:30, when twilight appeared in the east; it was cold though, by 03:00, ice crystals had formed on my equipment and the vehicles. It was during the early morning hours that I was able to take a few good images. I'll post two of them, but first…
Saturday and Sunday nights both suffered from high, thin clouds that gravely effected transparency. BUT, we did observe anyway, and I took a few photos. Sunday night I used my camera lenses to take a series of wide field images through the southern Milky Way. If you have the Bracken, "Astrophotography Sky Atlas," turn to page 66-67, and you will see the line of H-a subjects in the southern MW, from the Eagle Nebula down to the Prawn. Below is a series of images I marked to identify "landmarks" with which most of us are familiar. These are not great images; the effects of transparency issues made them look very grainy and somewhat blurry and washed out. I can't do anything about that, but you might find them interesting in spite of their deficiencies. I took them specifically to show 1) how some of these objects fit together and 2) how much H-a nebulosity actually exists between them. The entire area is filled with H-a, but only a small part of it is actually identified in the IC or Sharpless catalogues. Each photo is slightly south and east of the photo before it; some of them actually overlap. All taken with either a Nikon 300mm f:2.8 (3.6° FoV @ 11x) or a Nikon 135mm f:2 (7.4° FoV @ 5x) lens as the objective in prime focus, a 6nm H-a filter and my iPhone XR.
IC 4703 the Eagle Nebula & M17 the Swan (Nikon 135mm)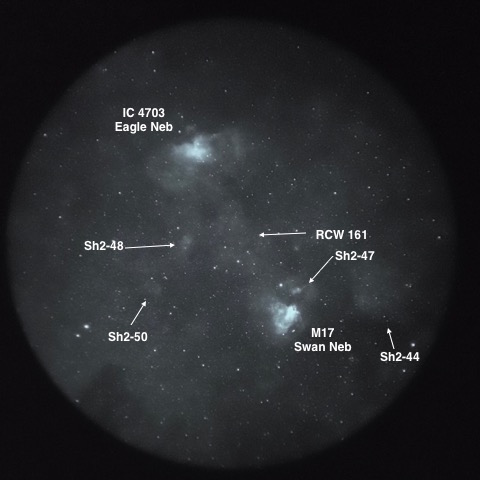 M20 Triffid & M8 Lagoon Nebula (Nikon 135mm)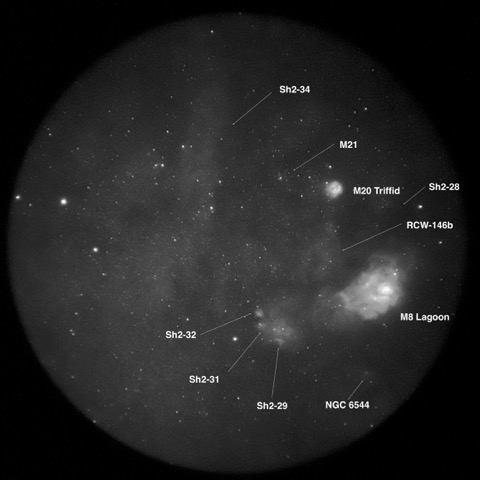 NGC 6357 the Lobster (Nikon 135mm)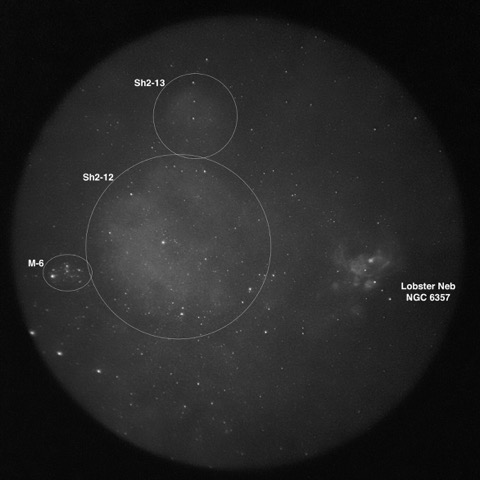 NGC 6357 Lobster & NGC 6334 Cat's Paw Nebula at the S. horizon (Nikon 300mm)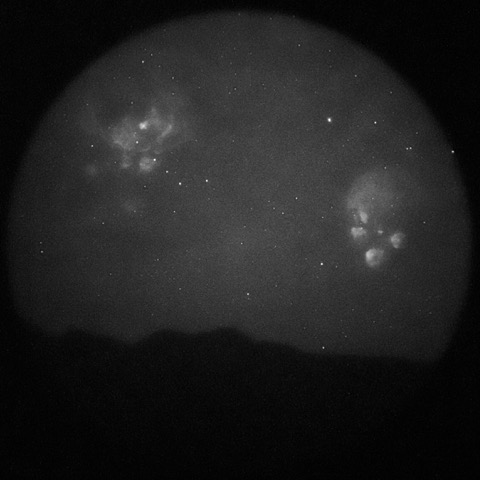 Sh2-5 (about 1/2 of the image is consumed with Sh2-5; a faint but large ~2.5° H-a cloud; this image also includes the horizon as Sh2-5 was just rising; Nikon 300mm)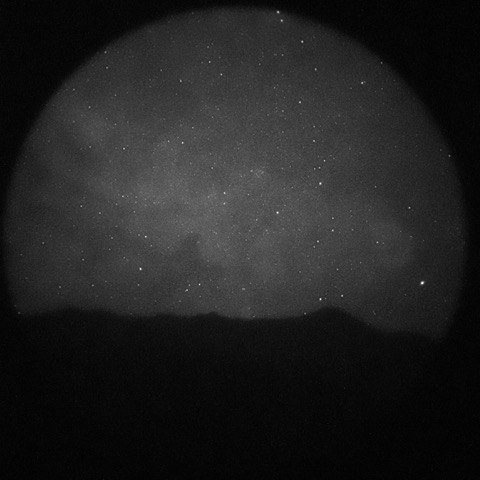 IC 4628 the Prawn Nebula, et al. (Nikon 135mm)