This is a sequence of lunar images from unprocessed data that I recently rediscovered on my old hard drives. Back in the summer of 2018, I was able to capture data for the entire Moon on two consecutive mornings in August, but the data remained unprocessed because at the time I was working with a lot of planetary data and didn't have enough time. These days, imaging has been few and far between, so I have been able to go back and complete this data set. The images come from August 2 and August 3, 2018, at approximately 13:00UT for each image. Larger images are available through Flickr with the links below. These are reduced to 70% of the original capture scale, due to personal preferences (IMO almost all images benefit from downsizing...the original capture scale almost always highlights the limitations in the optics).
The image below is an animated gif (you need to click), with poor quality due to forum restrictions, but which nevertheless nicely shows the change in appearance of the Moon over the course of 24 hours. To create the animation, the two images were normalized for size due to the changing Earth-Moon distance, and were aligned to illustrate the changing libration. What appears to be an image shift is actually the change in perspective from our Earth view. If you look carefully, you will notice that the position of the limb does not change position, but the surface features appear to rotate, and this is because of a change in libration in both latitude and longitude.
Click to view animation: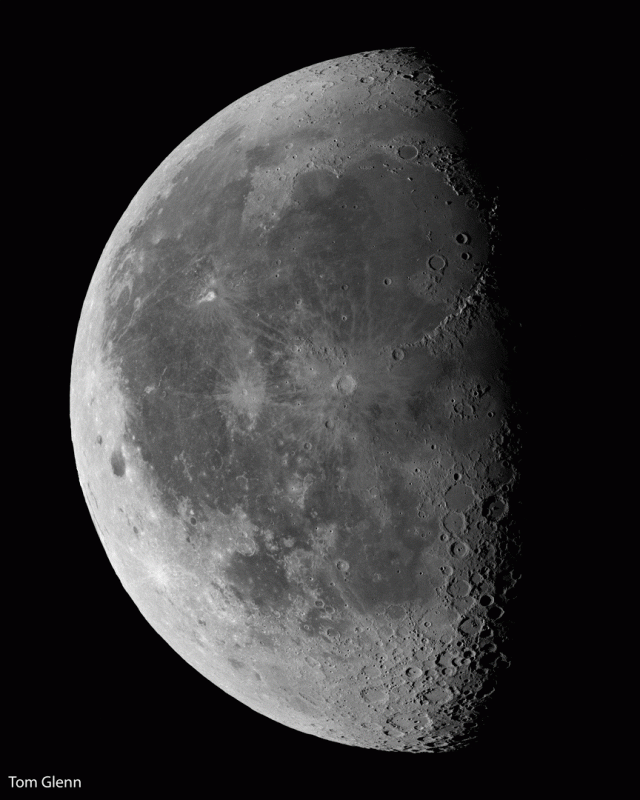 What follows below is a series of cropped images, each at 50% image scale, showing the progression of the terminator in a given field of view over 24 hours. You will have to follow the original links for higher resolution images of each Moon, but the images below show up nicely at forum size (with no pixel peeping.....for that follow the links above).
Edited by Tom Glenn, 31 May 2020 - 04:28 AM.