I have always heard that the best telescope you can have is the one you will use the most. The hardest part of dealing with my new C11 was moving it around. I like modifying things so that is what I did in order to move my new scope around, now it is very mobile and easier to setup!

This was made out of a heavy duty tote with wheels. I used the stock foam from the original packaging and trimmed it up to fit inside and snugly hold it in place. I removed the original wheels and put pneumatic wheels on it with a bigger axle for reducing the vibration/bumps of rolling it around. It also makes it quiet to move around so I don't wake up my lady when stumbling in with it at 2-3am lol. I keep all my lenses in a separate case that allows you to customize the contents layout inside the foam so they stay secure.

Overall it works very well. Makes setting up much easier and can go from almost everything broken down to setup in about 15 minutes or so (including a quick polar alignment). Only part I need to figure out is a way to make the mount more portable!!!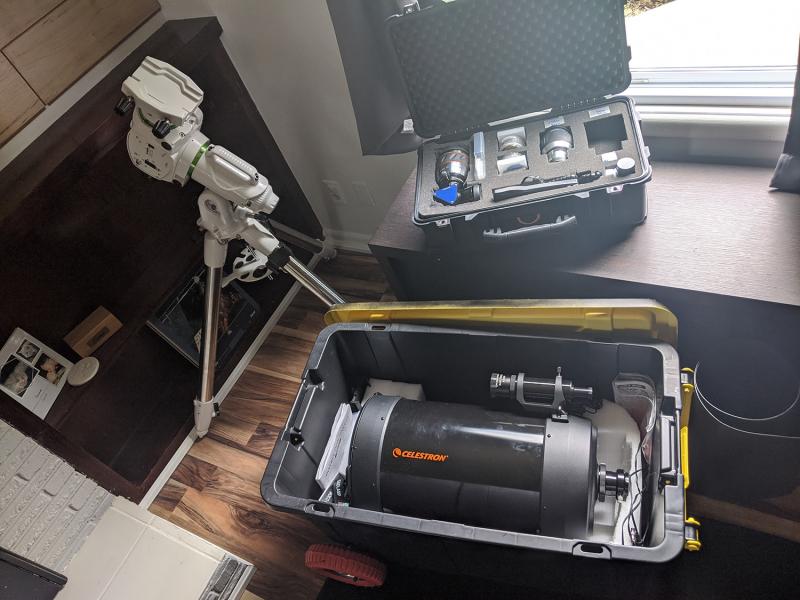 Sorry, picture is bad. Had to compress it down to 500kb to fit on the post!

Also my first post!
Edited by Randyx007, 31 May 2020 - 03:03 PM.