5/30/20
Location: Anza desert, Bortle 4.
Equipment: Stellarvue SV102 F7 ED doublet on SW AzGTi mount. Set of Vixen SLV EPs.
Have you ever started a session with low expectations, but it turned into a memorable experience? The forecast was for partially cloudy skies with close to 100% humidity and half Moon on top. I almost did not go, but then figured out that in any case I will enjoy the scenic drive and some fresh air. A few doubles before optics dews out will be the cherry on top.

I arrived to unseasonably cool desert. I do enjoy the spring this year. The wildlife was plenty. Hares, rabbits, quails and ground squirrels scattered in all directions upon my arrival, thinking what this nut is doing here on a Moon night?

As predicted, there were high clouds but with large patches of blue sky, this is when I started to feel good about the evening. The clouds stuck around but left southern sky clear. They brought nice sunset colors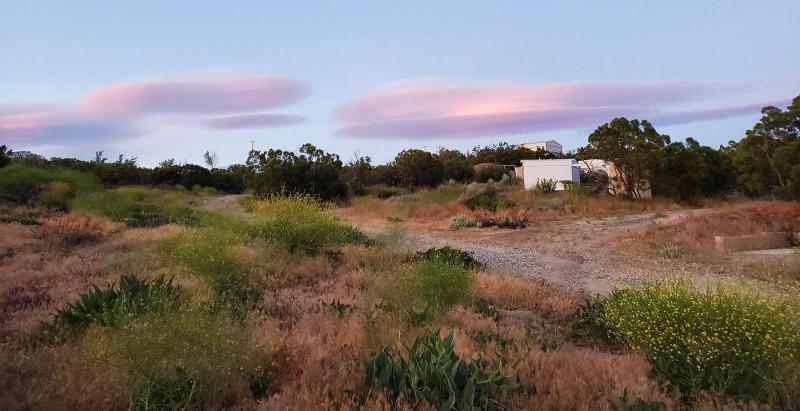 and were beautiful in moonlight at night. I was mesmerized by their dance across the sky. Stars sparkling between snow-white clouds, intricately highlighted chaparral standing motionless in the crisp night air, blanket of fog forming in the valley below, sounds of night, even some coyote howls (finally!) – all added to the magic. Half Moon was amazingly bright, flooding the desert with light and casting strong shadows. This created wonderfully weird sensation that I am splitting doubles during the day.
Humidity was high, all equipment was dripping wet in no time, nevertheless extra long dew shield kept the scope from dewing. Transparency was bad but seeing good. Below is selection from doubles I have observed this night. As always, I skip trivial and report only challenging, interesting and/or nice-looking binaries.
Hydra
BU 212 – 7.8, 8.3, 1.6", yellow, orange – secondary popped to view at the moments of better seeing. Vixen SLV 2.5mm (286x).
27 Hya (SHJ 105) – 4.9, 7.0, 11, ab 229.1", bc 9.1". – Rich orange-gold prime and cold white secondary are best presented at low power, SLV 25mm (29x). Needed to dig deeper to pick dim but sharp silver dot of C at the moments of better seeing, SLV 6mm (119x).
STF 1347 – 7.3, 8.3, 21.1", yellow pair. Nicely framed in SLV 25mm (29x).
STF 1348 AB – 7.5, 7.6, 2.0", yellow pair. Tight clean split in SLV 6mm (119x).
STF 1355 – 7.7, 7.8, 1.8", yellow pair. Shifted from figure 8 to split by hair as seeing changed. SLV 6mm (119x).
STF 1357 – 6.9, 9.9, 7.9". Spent considerable amount of time playing with EPs, because I thought it is well within the reach of my scope. FAILED. It was pretty low to horizon; I may hit a cloud there.
STF 1365 – 7.4, 8.0, 3.4" – unequal yellow pair. SLV 6mm (119x).
STF 1367 – 7.9, 9.0, 5.2", yellow, bluish. SLV 6mm (119x).
Libra
HJ 4727 – 8.5, 8.5, 7.5", yellow pair. SLV 15mm (48x).
Iota 1 Lib (H 6 44 AB) – 4.5, 10.9, white, navy – nice contrast. SLV 25mm (29x).
LV 6 – 7.9, 10, 16.7" – faint grayish dot with averted vison next to bright orange main. SLV 6mm (119x).
I 1269 – 8.7, 8.8, 0.7" – I thought no chance here, but the white airy disk was clearly elongated at 286x.
HJ 4769 – 7.9, 9.7, 9.8", pale orange, navy. SLV 15mm (48x).
HJ 4774 AC – 7.0, 9.6, 9.7", yellow, navy. SLV 6mm (119x).
S 672 – 6.3, 8.9, 11.5", lemon, blue. SLV 15mm (48x).
LAL 123 AB – 6.9, 7.0, 9.3", white pair. SLV 15mm (48x).
Gamma Lib (GOL 1 AB) – 4.0, 11.2, 42.5" – bright golden main and faint gray dot of secondary with averted vision. SLV 6mm (119x).
BU 122 – 7.7, 7.7, 1.7", yellowish pair - clean tight split with SLV 4mm (179x).
Kappa Lib (Eng 54) – 4.9, 10.5, 169.9" – rich copper colored main and faint silvery secondary. SLV 25mm (29x).
BU 35 – 7.3, 8.7, 10.7, ab 2.4", ac 123.4". AB – pale yellow pair, partial split at 286x. C – silvery dot in a distance at 48x.
BU 354 – 7.3, 9.3, 5.9", pale yellow, silver – nice contrast. SLV 6mm (119x).
BU 620 – 7.6, 7.0, 9.0, ab 0.7", ac 50.5". AB – lemon color, elongated air disk at 286x. C – smaller silvery star wide apart from AB at 29x.