Finally, this project is completed and so is this season (I hope not)... The LRGB version of M51 is here..Took me 5 nights (1 in April and 4 in May) to image the whole thing. And very long to process. Wish to add Ha but its been cloudy since a week and a storm expected this week.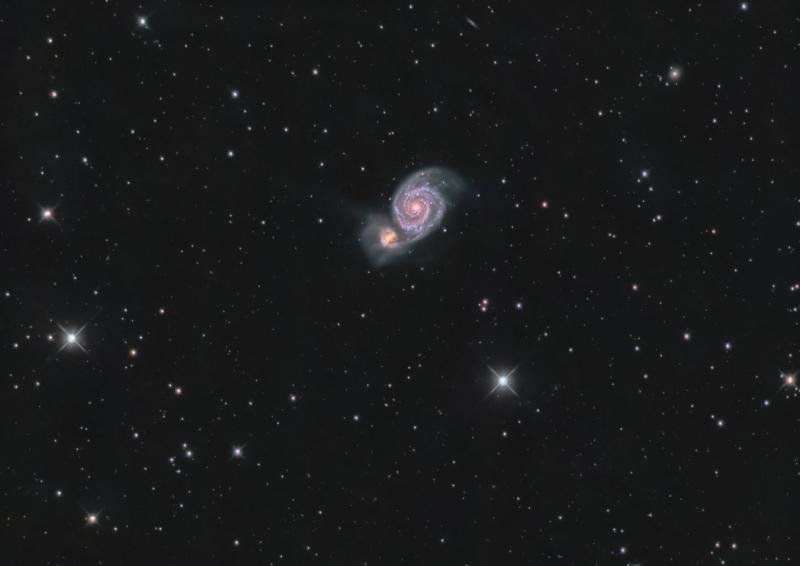 And a tight crop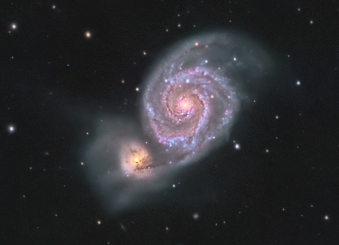 Here's the Astrobin link
https://www.astrobin.com/k6o2c0


I have not been able to get the star cores and colors right. Tried using HSV Repair Script in PI but to no avail. Please help me out with that.

L : 220 x 60s
R : 90 x 60s
G : 98 x 60s
B : 120 x 60s
All frames at Gain 0 & Temp. -5C..while ambient stayed above 33C entire nights.
Equipment
Camera : ZWO ASI1600mm Pro
Telescope : Skywatcher 130PDS
Mount : HEQ5Pro
Guiding : Orion 50mm guidescope, Orion SSAG Camera
Filters: Orion LRGB
Other/Accessories : ZWO FW, Pegasus Dual Motor Focuser
Location : Gujarat, India. (Bortle 5)

Thanks for looking.