I have been trying to pick off some of the numerous globular clusters that I have not imaged after finishing with my main object. Messier 107 was on my list and relatively accessible at only around -13 declination.
I know I will probably get some disbelief when I say this but I used no saturation whatsoever on this image. The strong colors are a combination of using relatively short exposures for my camera and my telescopes f-ratio (f/8), along with careful processing of the color information (arcsinhStretch).
The image is 9 exposures of 5 minutes each of R, G, and B.
The incredibly red star is not an artifact. It is in fact a variable star, probably very near its minimum. It is V720 Oph and is a long period variable with a period of roughly 332 days similar to Mira (StarTools 4 Imaging). It has a B-V of 2.571 (SkyTools 4 again) that is very very red.
As usual make sure to click the image below to see it properly (full size).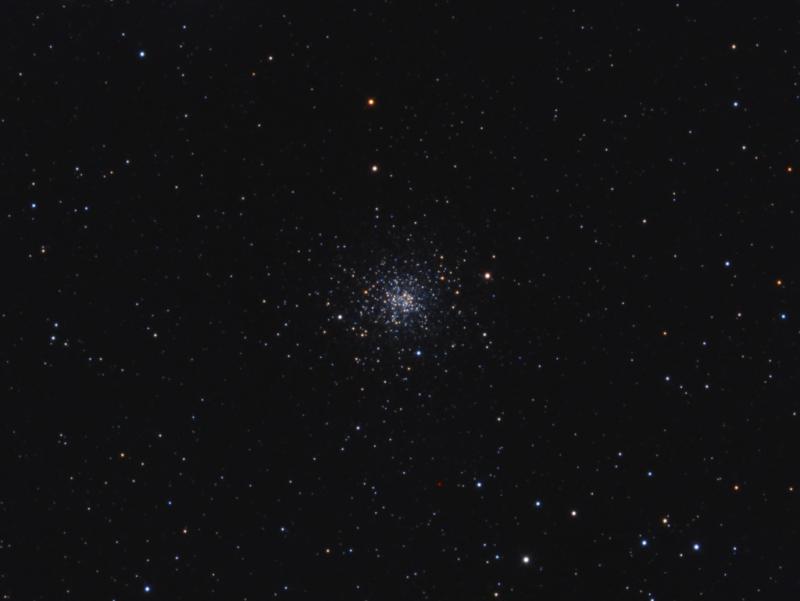 Equipment:
Telescope: AT8RC at f/8
Camera: SBIG STF-8300m
Mount: Paramount MyT
Guide Scope through OAG: QHY5LII-m
Acquisition Software: Voyager
Processing: PixInsight
Edited by Madratter, 05 June 2020 - 08:09 PM.