I love my 19mm Celestron Luminos. Yes, admittedly, the entire series has various peculiarities that irritate many people. These include: edge astigmatism, edge of field brightening, ghosting, glaring, inter alia. Notwithstanding the twist-up eyeguard and its heavy shroud mechanism. Even with these shortcomings I still enjoyed using the Luminos as a rich field eyepiece, especially in my Evostar 72ED DS Pro.
The 82° field of view together with a large accommodating eye lens and with a huge 30mm field stop gave a stunning 22.1x for a 3.2mm exit pupil. The 20mm eye relief made it ergonomically pleasant and physically undemanding to use. Especially if you are standing to observe and sweeping the night sky. However, there was one huge drawback; it is bloody heavy! I make it 460g with my kitchen scales. The main complication with this weight was in using the ED72 on a Vixen Porta II mount. The Porta altitude clutch had to be set tight enough for there to be no drift, yet loose enough to be able to switch to a lighter 1.25" diagonal for higher magnifications. The ED72 can have in-focus problems with 2" diagonals and shorter focal length eyepieces.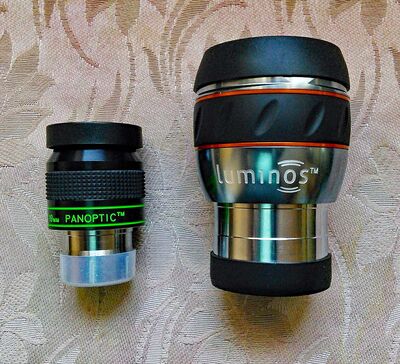 My first instinct was to eschew the 2" Baader dielectric for the Baader 1.25" Amici and use my 19mm Tele Vue Panoptic instead. This would seriously improve the weight situation, bearing in mind I'm partially paralysed in my right arm and hand. The 19mm Panoptic is one of my all time favourite eyepieces. As brilliant as it is, it isn't 2" though, and I really prefer 2" eyepieces for rich field observing.

There was a viable alternative. The 2", 18mm Explore Scientific has some similarities to the Luminos. Although the eye lens and eye relief are respectively smaller and shorter, the eye relief being 7mm less and the field stop is only 25.3mm. There are advantages however. I make it 370g, considerably lighter than the Luminos. The barrel plays nicer with the Baader twist-lock, the flip-up rubber eyeguard is reassuringly simpler and I believe the eyepiece features Lanthanum glass elements. On May the 29th I got first light with the ES 18mm. I'd waited several months for this eyepiece and actually ordered it the previous summer.
I spent a good 90 minutes solely with the 18mm ES, much of it around and in a rising Summer Triangle. The closer eye relief didn't bother me, although I wasn't originally impressed with the field of view in daylight tests with my ED80. It seemed visually claustrophobic in an f/7.5 doublet. This eyepiece seems better suited to faster scopes in my opinion.
In the ED72 the field seems large enough and with no astigmatism that I could detect. The image was bright and sharp. I easily found both globular clusters in Hercules at 23.3x and even got a hint of M57. The 18mm ES is definitely a keeper and the 19mm Luminos can be used with the ED80.