I thought I'd share a bit about my history with eyepieces so far....
I've observed for a few decades with ATM scopes of improving quality and increasing aperture. My first big step up was in 2014 when I built a 10" f 4.7 dob, shown in my avatar when it was unfinished and unflocked.
Until 2014 I was happy with Sirius Plossl eyepieces, though increasingly aware of the short eye relief of the focal lengths below 12 mm. At least I had no measurable astigmatism in my preferred observing eye, so my gradually increasing presbyopia could be focused out with a tweak of the focuser, and I could always get my eye close enough.
That year and in 2015 when a couple of sales popped up on Celestron LX eyepieces I upgraded to those. Now, THESE will be my FINAL eyepieces, I said. With a 3x barlow it took only four of these to have me covered from 3.3 mm to 25 mm focal length.
These had nice comfortable 20 mm or so eye relief, weighed a consistent 8 ounces or so, and were reasonably parfocal. The views at about 60 degrees wide were even a few degrees apparent field of view wider than the Plossls. That 20 mm eye relief made it possible for me to turn down the heights of the nifty rigid eyecups to share views at higher powers with eyeglasses wearers.
In 2015 I went to the Cherry Springs Star Party in Pennsylvania for my first time. Great event! There I met Dave Mitsky (a moderator and major contributor on the Celestial Events forum on CN) at the swap tables near the vendor tent and couldn't resist buying the only item he offered-- an 8.8 mm Meade 5000 series 82 degree eyepiece. I believe Dave had upgraded to an eyepiece with green lettering on it and had found that 8.8 mm Meade redundant.
I didn't need 82 degrees until I had it. The difference was profound and I could see about as much sky with this eyepiece as with my 12 mm LX, and at higher power and contrast. I have to blame Dave for turning me to the dark side...
I also realized that my 10" f/4.7 might benefit from a Paracorr after all, and since I already had an f/4.3 mirror I'd need one anyway at some point...
By September of that year I had the privilege of watching Al Nagler feigning outrage and a heart attack at seeing my 8.8 Meade in a Paracorr 2 at Stellafane. He didn't offer to rectify the injustice of that himself, though. 2015 is the only year I've managed to go to Stellafane so far. I had fun and the Tardiscope was well received.
Repeated trips to Cherry Springs had me appreciating the advantages of kicking things up a notch. I couldn't afford Televue's offerings, but discovered that the Explore Scientific 82 degree series were optically virtually IDENTICAL to the Meade 5000 series. Additionally, these were available used in the CN classifieds if I was alert and patient in accumulating a decent kit. When the ES 100 series came out, and occasionally when Televue had a sale, the CN classifieds seemed to have even more of the 82 degree series available.
By 2017 I had a decent kit of ES 82s, except for the 14 mm, which I didn't feel I needed and which I've heard may be least among them. I had 4.4 mm through 30 mm, and that last required some rebalancing of my scope. I didn't get them ALL used, however; I picked up two of them new from our sponsor Astronomics. I felt good about giving business to the provider of this wonderful venue. Metered over enough time, the costs didn't hurt TOO much. At least with ATM scopes, my only big expenses were in the eyepieces.
A couple other eyepieces came and went during these years, including a Nagler 12 mm T1 that was part of a lot that came with a used mirror. This was just too similar to the 11 mm 82 ES to justify keeping. That Mitsky Meade 8.8 mm became a graduation gift from a couple of us to a club member. The ES 82 8.8 mm, which was parfocal with my new series had made it redundant.
Having decided I was DONE buying eyepiece, I sold off most of my Plossls and built myself a nice eyepiece case using a Harbor Freight aluminum case. I carved the firm foam to nest my LXs, ES 82s, and even my RACI, Telrad, and Paracorr2. An upper removable tray to set next to the case kept all these at hand, though I wasn't using the LXs much except when observing with multiple scopes.
It was nice to be DONE getting the eyepieces I wanted: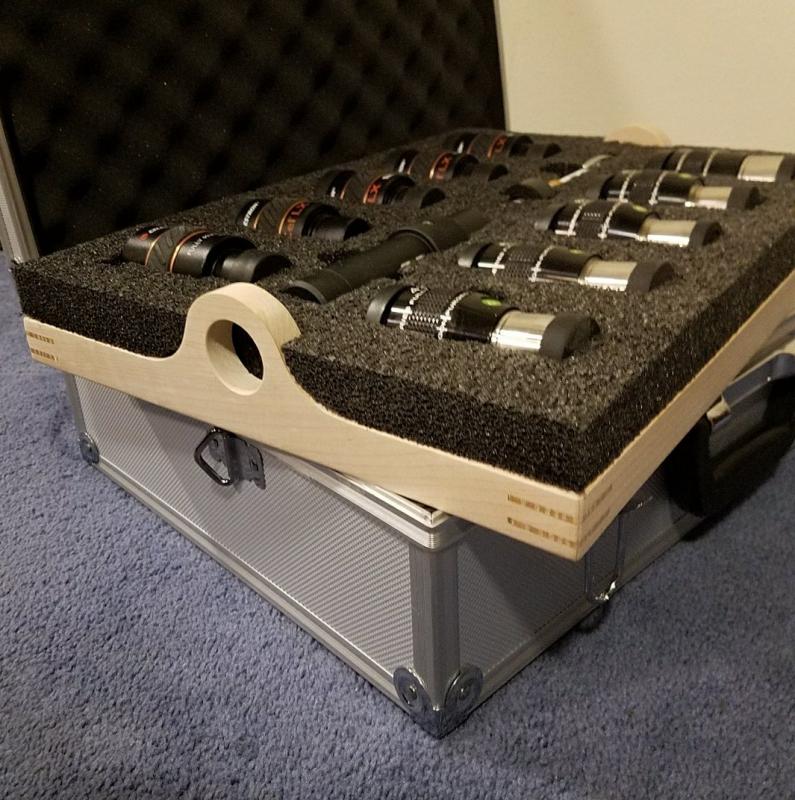 Well.....
I'm now building a couple of more scopes including an experimental unobstructed 8" f/10.6. The optical design of this one comes from the genius of Ed Jones, who I've now visited and worked with in person. He realized that with a couple of of tilted lenses near the focuser, the astigmatism can be adequately corrected on reasonably fast parabolic mirrors tilted a full 3 degrees. Check out his "Chiefspiegler" on his web page.
Now, this "Chief" will hopefully be a planet killer. Of course, I need to see how good the images really CAN be. I don't need wide angle eyepieces for that slow (84" focal length) scope for what I'll use it for. The Televue Delites may fit the bill for that. Since they aren't THAT much more expensive than the ES 82s, and a LOT less than Delos eyepieces, why not buy JUST ONE?
The problem I had was that I couldn't decide on 7 mm or 11 mm. I want to use use 7 mm, which would yield just over 300 power, but know my skies won't always support that. I finally resolved the dilemma by getting BOTH: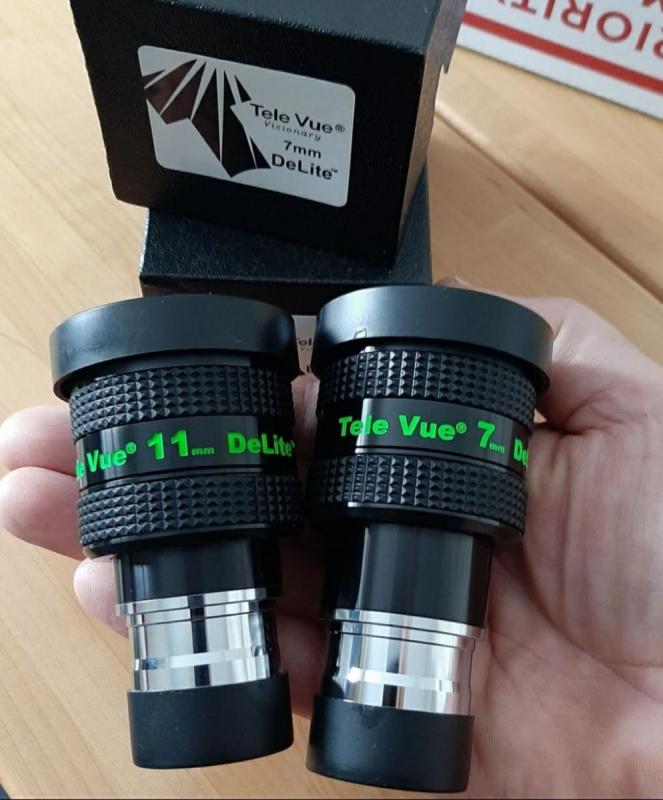 It was after getting these just before the last new year that I made an interesting discovery....
These were the same diameter as the LXs, though a bit longer in the shorter focal lengths. THEY WILL FIT IN THE TOP TRAY OF MY "FINAL" EYEPIECE KIT!
When a 4 mm Delite appeared in the CN classifieds a couple of months later, it just HAD to join its brothers. On those nights when the magic happens how high can I push magnification in a Chief with a good primary anyway? Besides, I just HAVE to have a Delite that will yield similar powers in my Dobs for comparison with the Chief, for the RESEARCH, you know.....
And, of course, there is that fourth pocket in the eyepiece tray that just HAS to hold a lower power Delite that will show more than a half degree of sky in the Chief. I just have to get an 18.2 mm. The Chief will necessarily hold only 1 1/4" eyepieces because of the lens and diagonal sizes. My ES 82s only go to 11 mm in that diameter, anyway.
SO....I put out a CN "wanted" classified for an 18.2 Delite after JUST missing out on one this week. Astronomics showed inventory of these as "more on the way" yesterday when I placed that ad.
I inquired when Astronomics would have them in stock again and learned that they had an inventory discrepancy yesterday and in fact already had more on the shelf!
Okay. I just HAVE to finish building up this FINAL eyepiece kit!
(I ordered it).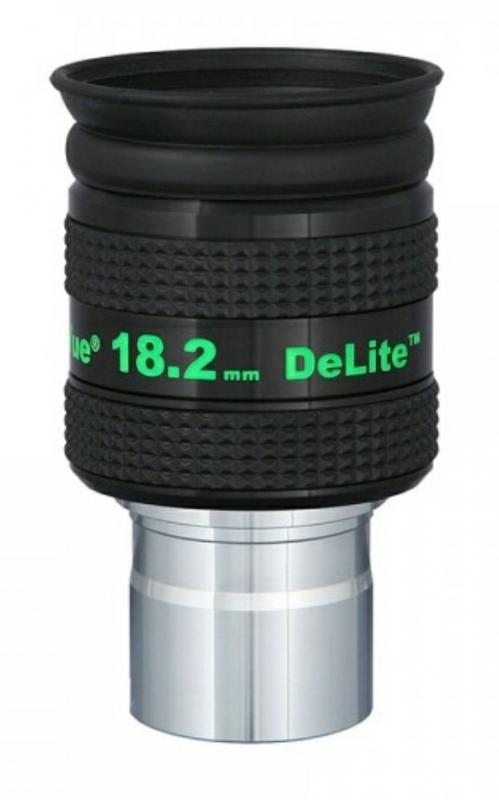 Edited by jtsenghas, 06 June 2020 - 08:35 PM.