It was suggested that I start a new thread about what I have been working on with the Raspberry Pi.
First, I need to define what ALPACA is.
Alpaca is a new protocol that was released at NEAF 2019. It was designed by Bob Denny, the same guy that designed the original ASCOM prtocol.
Alpaca is "ASCOM for the rest of the world" It is a network based protocol using JSON and RESTFULL interface at the lower levels. It implements the same functionality as ASCOM but across a network and it can run on ANY platform, not just Windows. It is compatible with ASCOM if you install the ASCOM/Alpaca bridge on your Windows machine that is running ASCOM.
Ok, now on to the Raspberry Pi.
Since April 2019, I have written 73,000 lines of C++ code to implement the alpaca protocol. I have followed their rules and guidelines but I have also embellished here and there and added more functionality. I will get to that later.
I have written both drivers and GUI applications to talk to those drivers, all on Linux. Eventually I plan on making it open source, but I want to make sure everything passes the ASCOM/ALPACA test suite before I release anything.
IMPORTANT NOTE: Alpaca DOES NOT REQUIRE ASCOM and DOES NOT REQUIRE WINDOWS. This was very important to me because I prefer linux over Windows.
I have implemented the following
Camera
ZWO
ATIK
QHY (mostly done)
ToupTech (started)
FLIR
Focusers
Moonlite NiteCrawler
Moonlite HiRes
Filter wheel
ZWO
Rotator
Moonlite NiteCrawler
Dome
My own dome using R-Pi relay board and motor control
Switch
R-Pi relay board
If you are familiar with ASCOM, these devices should all be familiar.
I can control the system from anywhere in my house using the GUI drivers
Attached is a screen shot running several applications.
I normally run 3 scopes, with 3 nitecrawler focusers and 3 ZWO cameras, each scope has its own R-Pi, running the camera, filterwheel, focuser, and rotator.
In this screen shot, there are controllers for 2 scopes. The 2 purple windows are for one scope, the 2 gold windows are for the 2nd scope. It does sometimes get a bit busy but you would expect that trying to run 3 scopes at the same time.
If anyone would like to work with this, let me know. It is a work in progress put it is very far along.
Mark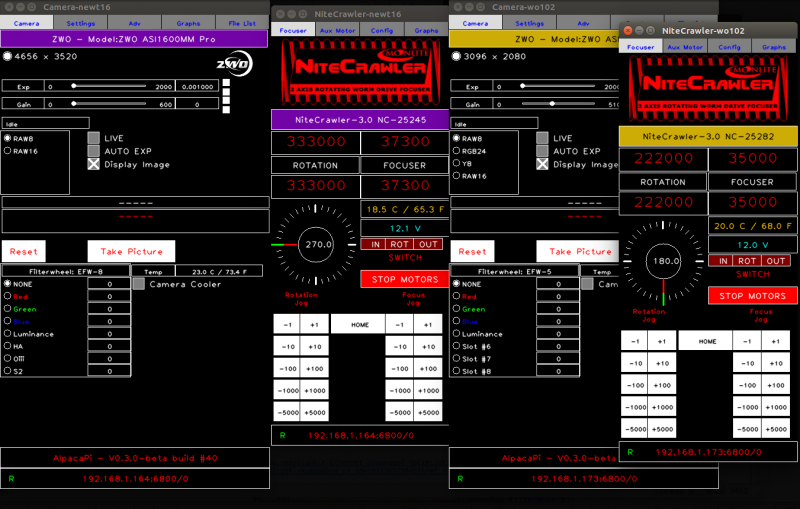 Edited by mark77, 07 June 2020 - 01:20 PM.