I've been getting a specific chromatic problem with stars on my Ra consistently now with 4 optical trains (three telescopes) where a 5D2 and 5D4 do not show this problem ever. I have some ideas, but would like to hear from others that know more than I do what they think as I am not certain. First, a sample image of the issue (please ignore the colour balance):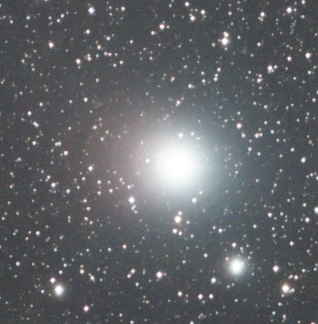 The stars in the center of the frame are all not bad, but starting around 60% from the image center, the star images start to show this type of artifact. This star is ~ 75% left of center, just above vertical center. The pattern follows a circular symmetry about the image center. This shows up in a single raw file, and shows up when a standard raw converter creates a non-linear image (Adobe RAW) ... so, it's there with and without any of the calibration frames being used (including any combination of them used or not). I think this is related to the micro-lens array on the sensor and adjustments made for the mirrorless design's shorter flange distance. (This seems wrong now, so I added a strike-through). I also have consistent issues getting good flat field calibration with the Ra (not the 5D2 or 5D4) that results in a colour shift around the same place as the stars in the flat-corrected image.
Does anyone else see this or similar artifacts that can help me understand what the fundamental cause is? If you have an Ra, do you have issues with flat fields or with stars towards the edge of the field (maybe where you did not with a DSLR)?
Thanks in advance.
[EDIT, clarified last question.]
[EDIT 2] added strike-through where my initial thoughts appear to be wrong.
Edited by agavephoto, 12 June 2020 - 11:27 AM.