After several months of using a DSLR I decided I wanted to jump to a dedicated astro camera due to wanting a cooled sensor for long exposures and not needing a cooling off period between shots. I picked up a ASI 294 MC Pro about a month ago and have gotten lucky enough to try it on 10 different nights. The images I've gotten with it have look amazing except for I have blotches that that I cannot get rid of. I have tried dozens of combinations of calibration and I'm looking what to try next, besides send the camera back to ZWO
As seen in the M51 image, there is a red ring visible with a basic stretch. Besides the red ring, there are dark blobs across the image.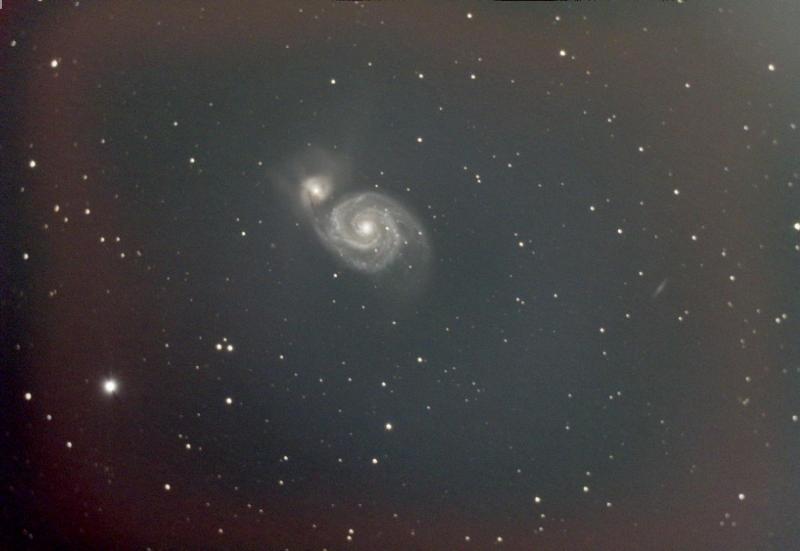 I have tried the camera on two telescopes (a 6SE and a Spacecat 51) using an ASIAIR for the capture. I've tried with and without bias frames, with and without dark frames, and multiple attempts of flat frames ranging from 0.1s to 10s. I've tried getting flats from the morning sky, an iPad, a laptop screen, my OLED TV to cheap tracing pad. I've tried exposures from 3min to 30 seconds. Gains at 0 and 120.
Some things seem like they are helping and I have made progress on the red ring but the dark blob always returns somewhere in the processing. Some things have made the ring go away, but only to be replaced with the dark blobs being more visible. No matter what I've done, the dark blobs remain in the same spot... mocking me.