Hello,
I finally received QHY600M camera today. I also received CFW3-M filter wheel and OAG-M as well as Chroma 50mm LRGB filters.
I connected everything to my TEC 160FL and was successfully connected using Voyager and Nebulosity. At first Nebulosity refused to connect so I copied qhyccd.dll (32 bit version) from latest QHY SDK to Nebulosity location and successfully got it connected. Voyager works with either ASCOM or Voyager's specific QHY SDK (native driver).
I started playing with it at gain of 0 and offset of 50 using QHY's mode 0 by taking T-shirt flats with L and Red filters. I was surprised the exposure times were significantly longer than expected. For the amount of sunlight I was using, the exposure time to reach peak at halfway point of histogram was 1 second for L filter and 10 seconds for red filter.
I repeated the T-shirt flat test using gain of 26 and offset of 50 and the exposure time for Red filter was significantly reduced to about 1 second.
So I'm not sure which gain to use for LRGB imaging. I am concerned that the exposure times for imaging fairly bright DSO like M27, M51, M42, etc. could take as long as 10 minutes for gain of 0.
I am using USB 2.0 setup and I was very surprised the download speed was 7 seconds at bin 1x1 and the file size was around 120Mbytes and the USB traffic was set to 0. That's faster than my old QSI 660wsg which took about 11 seconds to download for about 12MBytes file. I think I'll stick to USB 2.0 setup for now.
Question #1: Why doesn't the camera have power LED? How can I tell if the power is running to the camera? I am deaf so I cannot hear the fan running.
Question #2: How do I lower or raise the OAG-M prism stalk without removing the filter wheel. I can see how to loosen the stalk but I have to grab the prism to lower/raise the stalk. So far I have to remove the filter wheel from the imaging train to get access to the prism in order to raise/lower the prism stalk. I am aware of the thumbscrew to loosen/tighten the prism stalk.
More testing to do but I'm sure I will have little to no issues. This is one big camera.
For those who currently own or planning to get QHY600M/C, please feel free to discuss tips, problems, and solutions here.
Thanks,
Peter
Here are some screenshots of my new equipment.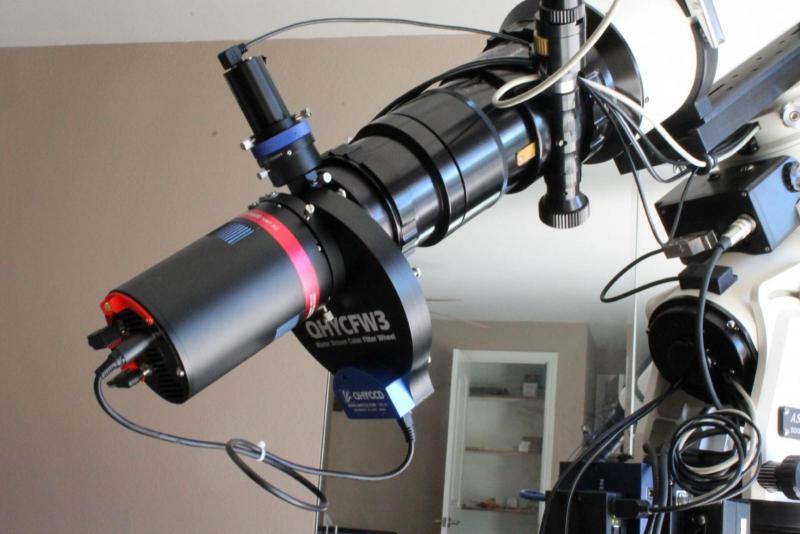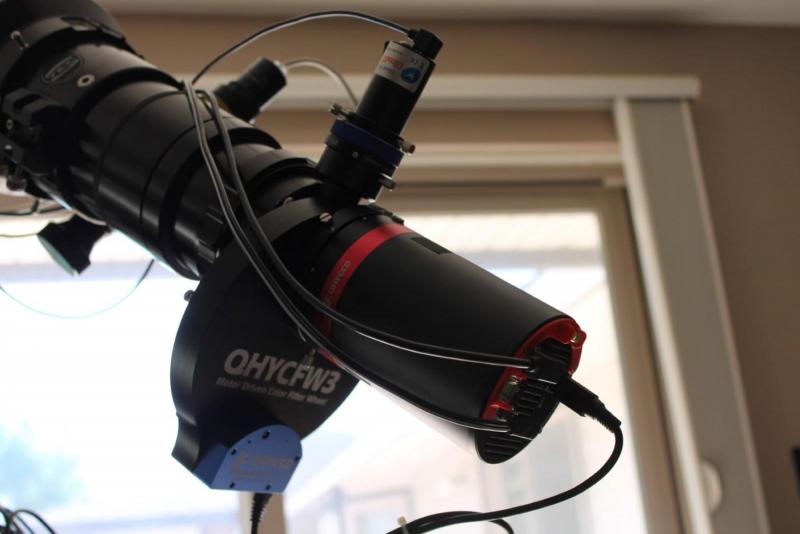 Cool camera bubble leveler from Buckeyestargazer.net. This will allow me to accurately frame the camera almost exactly the same from night to night.