It has been an exceptional spring in the British Isles, with record numbers of clear nights. This clear spell ended in early June with a few nights of exceptional seeing - the best I've experienced. These observations were mostly made then, in my 10" dob.
My normal practice is to mark up a few targets beforehand in CDSA, with sep and mags only so no knowledge of PA. I'm interested in observing motion so have been concentrating on improving my detection at small separations, but because CDSA is a few years old now I'm being caught out by the faster pairs, see below. I tend to 'warm up' with a few familiar pairs like Izar to assess seeing, then decide whether it's worth trying for the closest pairs.
OΣ 285 Boo - +7.7 / +8.6, 0.5", 76o
Super-close white pair, seen touching occasionally separating at 436x. PA estimated at 70o. Appear almost matched despite ΔM of 0.9, hard to tell which is the which. Noted sec 'probably following' which turned out to be correct. 89yr orbit, PA slowly decreasing.
OΣ 298 Boo - AB +7.2, +8.4, 1.2", 188o, C +7.7, 120", 328o
A neat triple, a bit like a miniature Alkalurops. Best view at 300x. AC sep 100x AB. PAs estimated at 210o and 320o. 55 yr orbit with steady increase in PA over the next decade.
γ CrB / Σ1967 - +4.0/ +5.6
This is where it gets interesting. CDSA has this at 0.6" (2015), and with the significant ΔM of 1.6 I was expecting a challenge. After a long look at 436x in good but not perfect seeing I was convinced of the airy disc appearing slightly smudged/ extended around PA 100o.
On checking Stelledoppie the following morning I was initially excited to see the current ρ/θ listed at 0.22"/ 105o. This would be my closest detection yet and, at 0.48 of the Dawes limit about as close as I can realistically hope to go. And at a significant ΔM too, with my sketch noting almost exactly what I'd expect to see and the PA a very close match.
But on looking at the orbit, doubts started to creep in. The 91yr grade 2 orbit has the pair closing rapidly - 0.22" for 2019 but 0.145" for 2020, and us now halfway through the year. I wrote 'not credible' below the sketch in my observing notebook, and renewed my reading on diffraction artefacts.
The following night was clear and viewing the 1/2 moon at 220x in the dusk it was clear the seeing was pretty special. As the skies darkened I slewed the scope to Izar and moved up to a 4mm Nirvana eyepiece giving 300x. Oh my! As I approached focus the rings of diffraction barely shimmered, and I was rewarded with an almost stationary view that finally justified the epithet 'Pulcherrima'.
ζ Boo / Σ1865 - +4.5 / +4.6
CDSA has this pair as earning a showpiece *, and recommends them as a resolution test at 0.5". Stelledoppie also has the headline sep as 0.5", but the 125 yr grade 2 orbit has it at 0.25 for 2020. But looking closely the list of predicted measures is all over the place and the plot appears to break down around periastron. This may be related to the eccentricity of 0.98. So who knows? Either way, in excellent seeing at 300x, 436x and even 600x (though a little low at 52o N) I couldn't see any sign of the secondary.
I returned to γ CrB. This time I saw no elongation of the airy disc. However, on reflection, I was now convinced there was nothing to see, whereas the first observation was very much with an open mind. The near perfect PA estimate was still nagging at me...
η CrB / Σ1937 - +5.7 / +5.9
CDSA has this at 0.7", which should be properly split in my scope. But again, stellar motion over the five years since publication was enough to put it out of date. I observed the stars as yellow and the single airy disc like an elongated egg with no notching, sep estimated at ~0.4" and PA estimated at 300o. In the morning, stelledoppie gave figures of 0.36" and 280o. 41yr orbit which is now at it's closest, but will never exceed 1", so should be followable throughout in this scope.
ζ Her / Σ2084 - +2.9 / +5.4, 1.36", 112o
If you aspire to observe stellar motion, this has to near the top of your list. A bright, easily found star with a mere 34 yr period that should be observable in medium apertures throughout. I saw a bright white primary with a nicely spaced orange secondary, a very pretty sight in good seeing. Will be above 1" for the next decade with PA steadily decreasing.
ξ Boo / Σ1888 - +4.8 / +6.9, 5.3", 298o.
A pretty sight, close at 91x, well separated at 220x and perhaps best seen at 136x in this scope. I made the colours cream and yellow/ orange, PA estimated at 280o.
θ CrB / Cou 610 - +4.3 / +6.3, 0.8", 199o
I approached this with trepidation as I knew the ΔM was getting large for a sub-arcseconder. At 300x I saw nothing. At 436x the pale blue comes appeared immediately, embedded in the diffraction of the cold white primary and forming a nice contrast. PA estimated at 200o. Once I knew where to look it was just visible at 300x. The nature .of this double is uncertain, but it was getting late and with the forecast for cloud for the foreseeable, I had a hard time pulling myself away from this tiny little jewel. Worth a look. What a great area of sky this is!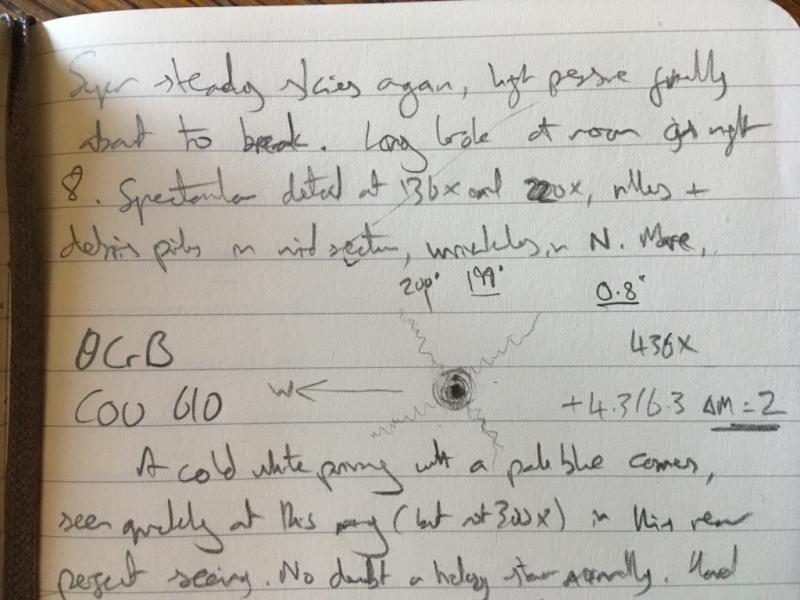 While looking at θ CrB, it occurred to me that closing these stars to overlapping should still be just detectable, and would look a lot like my observation of γ CrB. I went back and added a question mark to my 'not credible'...
I was reminded of this this morning as Augustus posted that he thought he'd split it last night in his 14.7". Be interested in others' thoughts and observations.
Edited by Adam Long, 24 June 2020 - 06:20 AM.