Hello All,

Is there a more wonderful part of the sky for double star enthusiasts than Cygnus? There's so much to see here that I get overwhelmed planning my observing sessions. I have to calm down and remind myself that I can't observe everything on any single night.

Case in point is this magical two-and-a-half-degree strip of sky centered around 19 hours and 45 minutes and running between 33° and 36° north (or more simply put, just a couple degrees west of Eta Cygni). Here you'll find a showpiece or two, as well as a couple of subtler delights.

Moving north to south, I'll start with STF 2578 (6.4/7, 14.9"). At low power I noticed a slight color contrast. The spectra are actually quite close, B9 for the primary and A0 for the secondary; but strangely, I saw the secondary as bluer in tone, flirting with green and grey as the power went up. To the west/southwest is a third companion, which I believe is the magnitude 9.2 F component. At 72x (2.1mm exit pupil in my 150mm Mak), I caught a glimpse of something curious off to the north: a very dim double star, forming the southeastern vertex of a right triangle of similarly dim stars. At this power it was clearly double but not well resolved with direct vision.

Bumping the power to 90x (1.7mm exit pupil) helped a little. I could estimate the PA as either south/southwest or north/northeast, though I wasn't sure which star was the brighter of the two. 120x (1.25mm exit pupil) resolved the pair fully and revealed that the southern star was slightly brighter, making the PA north/northeast.

A little searching this morning gave a label to my mysterious and shy new acquaintance: this is ALI 161 (10.8/11.2, 8.5"), discovered by Dr. Akbar Ali. What a joy to learn about this gentleman! Dr. Ali was director of Nizamiah Observatory in Hyderabad, India, from 1944 until his death in 1960. There he participated in the Carte du Ciel project, procured a 48" reflector (unfortunately not completed during his lifetime), and mentored famed Indian astronomer Vainu Bappu, whose father was also an astronomer at Nizamiah. Unfortunately, Nizamiah Observatory presently stands unused, as excessive light pollution has made scientific work there difficult. I'm grateful to have caught a glimpse of this modest double and to learn a little of its discoverer.

Moving south I came to H V 137 (6.2/8.2, 39"). Some of you know what a huge fan I am of Omicron Dra, and this pair bears an uncanny resemblance: a G-type primary, a color-shifting secondary, and a very similar separation. Increasing the power brought B's difficult hue firmly into blue territory, contrasting beautifully with brilliant brass-colored A. The Admiral calls this a "fine object," and gives the colors as straw and smalt blue. I'll take it!

(note: searching Stelle Doppie for these Herschel designations can be a frustrating experience, no matter how you style them; for those of you interested in looking this one up, the WDS number is 19459+3501).

Further south still brings us to a pair of pairs, 17 Cygni (5.1/9.3, 26") and STF 2576 (8.5/8.6, 3.1"). The relationship isn't purely visual: WDS actually lists STF 2576 as the F and G components of the larger 17 Cygni system, and notes a common proper motion between the pairs. Before being merged into the 17 Cygni file in WDS, the AF pair was cataloged as LEP 93, one of the CPM pairs of Sebastien Lepine.

Visually, this group is a stunning sight. 17 Cygni A is a bright sandy color, and B a strong orange despite its relative dimness. Nearby to the southeast is the 9.4 C component, nearly as bright as B but much lighter in hue. To the south is a row of three stars, gently curving from northwest to south.

STF 2576 is a perfect miniature of a double, split cleanly even at 45x. Raising the power to 72x and then 90x brought out a pinkish brown color in both stars, befitting their K spectral type.

Below is my sketch of the whole scene: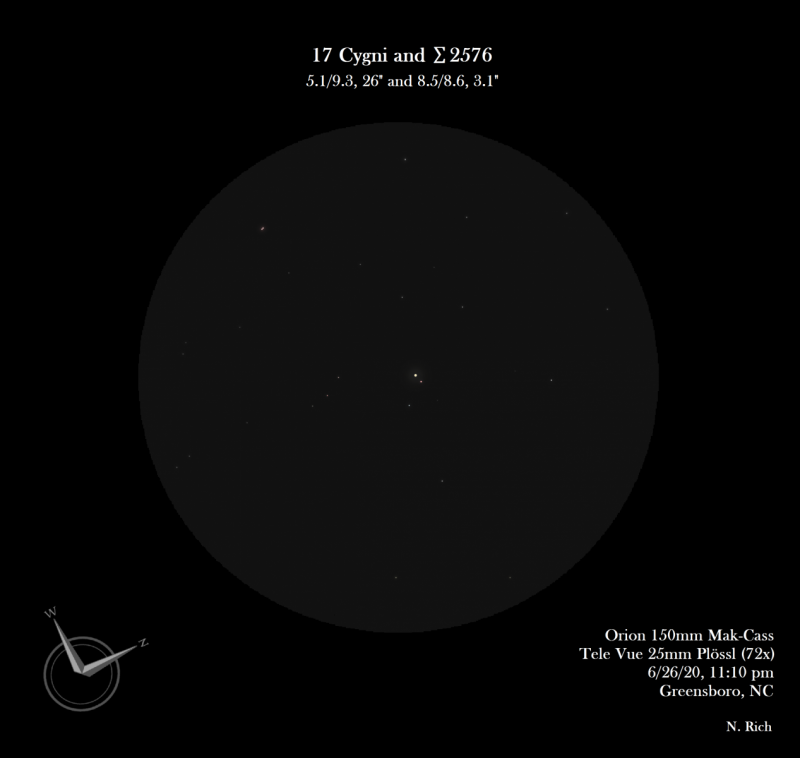 And again, with an inset to show the detail on STF 2576: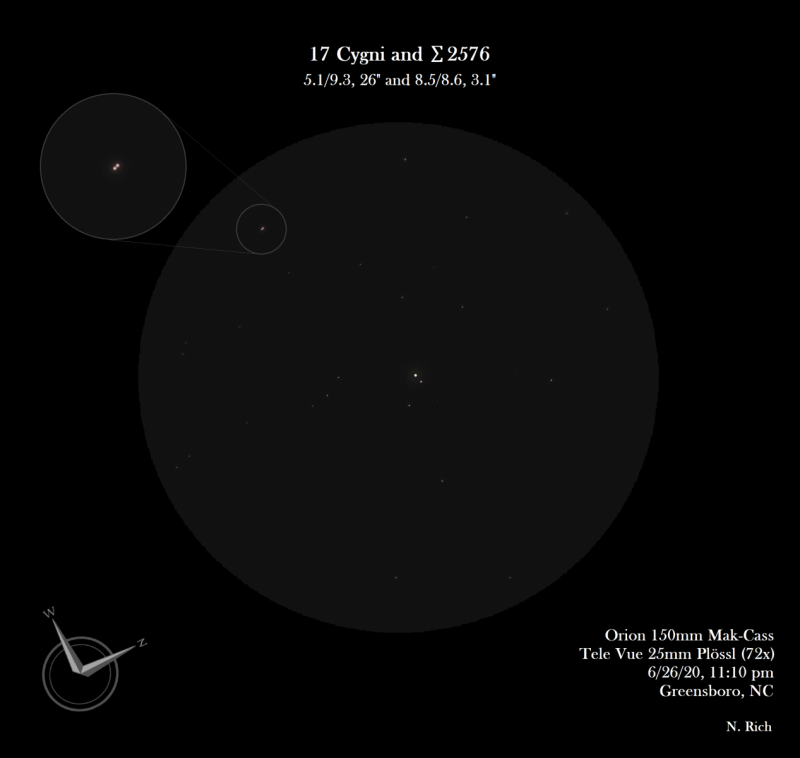 That's all for now! Comments and corrections most welcome.