When I decided to build a concrete pier, I really didn't want to spend $360 to get a pre-made pier plate to hold my CEM60, so I set my sights on building my own out of a brake rotor. After spending hours searching the interwebs for details on how to do this, I finally pieced together everything I thought I needed and set about actually building it. The plate is now finished, just waiting for my back to recover so that I can pour the concrete!
I want to put all the details as to parts, sizes, dimensions, etc. here in one place to save some future person the frustration of trying to hunt down each individual detail from different places. Maybe this will be just what you need, maybe not, but if you are planning on undertaking a project like this, I hope this helps you.
Parts:
Brake Rotor- there are a myriad of different sizes, but this one is good for an 8" pier.
Aluminum Plate-1/2" thick, two 6"x6" (glad for the backup even though I didn't need it)
4 1/2" GALVANIZED anchor bolts with 2 washers and 2 nuts each
3 M8-1.25 X 20mm socket cap screws
1 M8-1.25 X (it doesn't really matter, it just has to get through the 1/2" plate, and there's nothing underneath it) Be aware you will have to grind the knurls off of this so that it fits as the center post.
2 anchor posts-no idea on this one. I am reusing the ones that came with the mount, but they are essentially two M8-1.25 shafts. Not sure how long, I didn't think to measure them.
Tools:
Circular saw-although this beggared my imagination, a regular saw blade on a circular saw cuts through 1/2" aluminum plate easier than it does through some woods!
Electric drill
Titanium bits (or cobalt)-don't think you can just get one in the size you need. You'll need to start small and then work you way up to the final sized hole in at least 3 steps.
M8-1.25 tap and bit set
Cutting oil-don't forget this one
Assorted hand tools (clamps, vise, files, allen wrenches, coffee, beer, whiskey, etc.)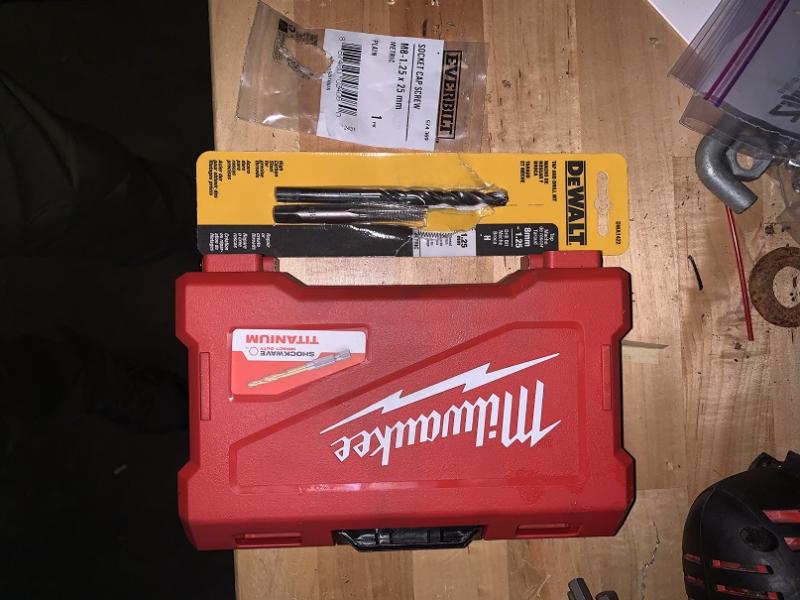 Procedure: (Can't hide my Science teacher roots!)
No mysteries here, and figuring out the how is a big part of the fun, at least for me. The only holes that have to be drilled exactly are the two anchor post holes. I used the top plate from the current pier as a template. I drilled and tapped out the hole for the center post, put the current plate it and marked out the two anchor post holes.
Just be sure that when you are drilling the holes for the 4 anchor L-bolts to make them far enough away from the inner wall that you can spin a nut onto the bolt. Don't ask why I'm point this out to you, just trust me on this one...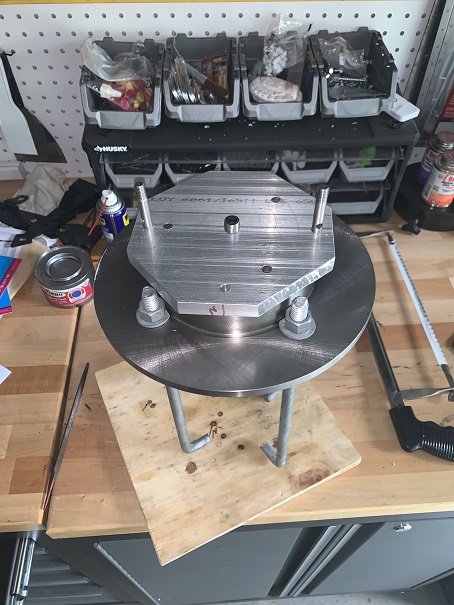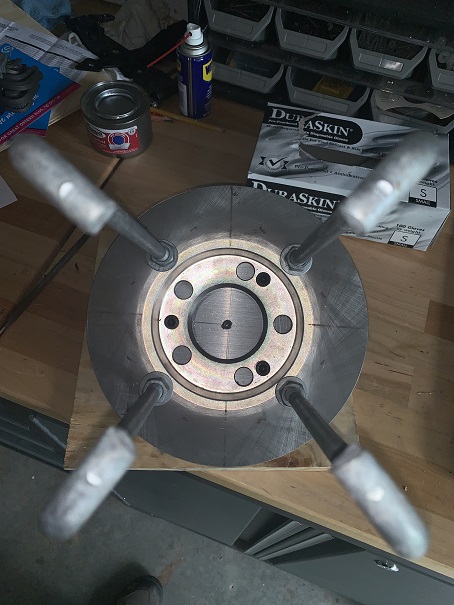 Credit to OldManSky, TomK, and Whuppy for either their posts or their personal input or both.
These CN posts also have good information for you:
https://www.cloudyni...60 pier plate
https://www.cloudyni...pter-for-cem60/
https://www.cloudyni...n-avx-2-tripod/