Hi All,

So I've been lurking on here for a while now, but finally got all my astro gear up and running and decided it was time to jump in head first. I've managed to take some decent first photos that have exceeded my expectations, but have noticed some odd star shapes/colors that have stumped me.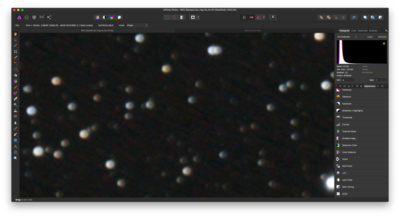 I feel like I'm looking into a sea of frog eggs waiting to hatch into space tadpoles...
Because it will be asked, I'm shooting with an SV80ST w/ Field Flattener and unmodded Nikon D5100, ISO 800, 45sec x 80 subs unguided on a CEM60 with iPolar. Image is a screenshot of a portion of the sky near M57, but shows up on all my images so far. Also, while this is the stacked and edited version with lights, darks, and flats, the same star shape/color shows on single subs as well. What am I looking at here? Stars are not egg shaped, comet shaped, etc, so I'm assuming it's not collimation or coma. Could it be poor seeing or tracking? The Frogpocalypse?
Thanks in advance for the help!