Yesterday I went out and tried did my first astrophotography experience. My equipment is absolutely not suited (yet) but nevertheless, I just wanted to try.
The skies were perfectly clear and I drove 30min out of the small city where I live into a "yellow" zone according to darksitefinder.com. At around 11.30pm I got to the location that I had spotted at home using darksitefinder and google maps, a small wooden shed in the middle of nowwhere out here (north-west flatlands in Switzerland). I got the creeps first since all I could hear was animals (cows were sleeping a bit further away). Also when I arrived with the car I spotted 2 or three pairs of reflective eyes of unknown creatures, looking back at me.
I brought all I have which is an AT106 LE (690mm f6.7 tripled APO) on a Vixen SP (no tracking, no guiding) along with my trusty Fuji X-T10 with adapter and some eyepieces for visual.
Back at home I had planned on what to try to shoot. I had always been wanting to try shooting the Omega nebula which should be up in the south-east sky currently. Since I was not exactly sure if I'd get clearance towards the south I looked for a backup plan in the north sky and decided on the Andromeda galaxy.
As soon as I had arrived it was clear that the south sky was sadly not clear enough to find Omega. So I pivoted for Andromeda, which was well accessible.
I have no finder scope and neither do I have any goto system - so I used the "Sky Guide" app for iOS and my 28mm wide field eyepiece to look for Andromeda. I easily found Cassiopeia and used it as a guide to look for Andromeda.
After a bit of slewing back and forth and up and down I found a patch... but it appeared so small! Back home I had used Stellarium to get an impression of what to expect (having entered the details for my scope, camera sensor, etc.) and I had figured out that using my 690mm focal length scope I would get a massively magnified view on anything - Andromeda overlapping the sensor by about 150-200%. I thought, I migh be able to just shoot the core. Was that the core that I was seeing, through the 28mm eyepiece? That small patch? I searched around for a couple of more minutes but then decided to just go for it and shoot it.
So I set up the Fuji X-T10 for RAW, ISO 6400, 1 second shutter speed and interval shooting set to 10 pictures in series each 2 seconds apart. After each series I would readjust the RA to center the "patch".
I shot about 150 images, each 1s, accounting to around 2min 30sec of total exposure.
Attached is the result after stacking using DSS (only 50 stars were found using lowest possible threshold).
I doubt I really shot Andromeda - but what is it then? Can someone guess it?
You might consider this approach super naive. I must say, no matter what the result was, it made so much fun and I'm absolutely sure I want to continue AP. I will surely get a better mount with tracking and a guider scope. And think about using a 0.7x reducer or similar.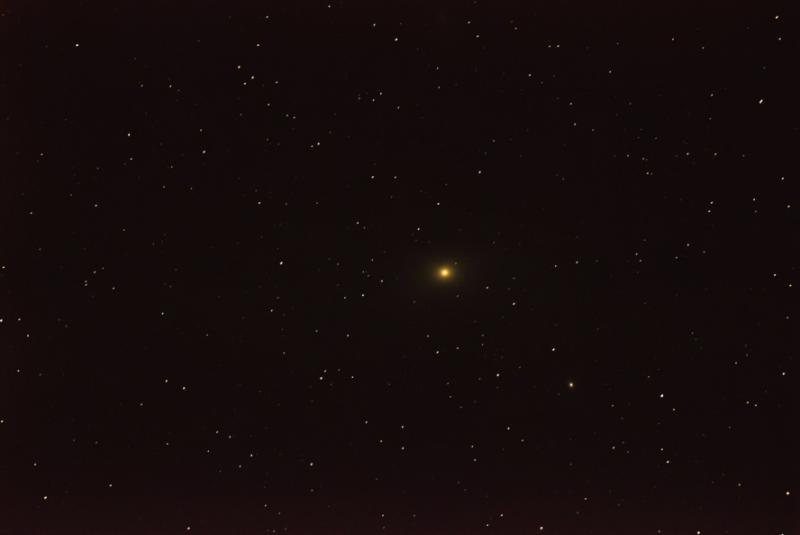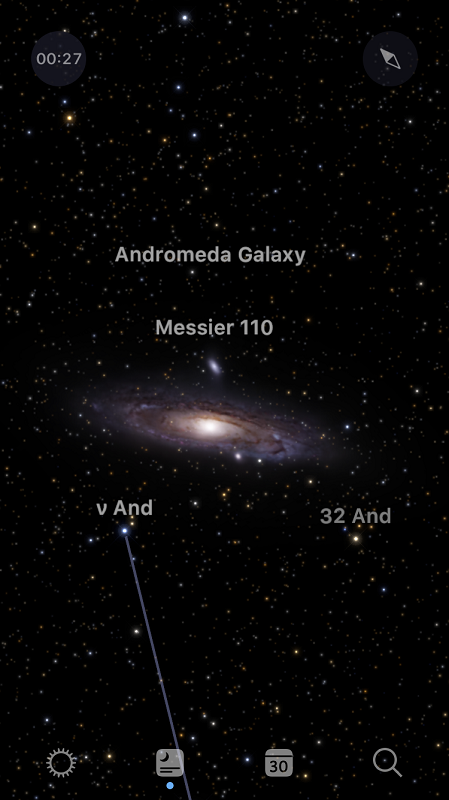 Edited by alberto2000, 30 June 2020 - 07:32 AM.