iOptron recently (last month or so) came out with a new model of their high-mid range mount. This takes the place of the CEM60, a mount loved by many but now discontinued. The CEM40 and GEM45 sit below this in iOptron's range and the CEM120 sits above it. There are two variants of this mount - the CEM70 and the CEM70G. The "G" model has a guidescope and camera built into the mount. It's a short focal length, so I question its utility except for people with wide FOV setups. More enticingly, the CEM70G has a USB3 hub built into the saddle as well as WIFI control built into the mount base. From what I have gathered, you can connect to everything - mount, iPolar electronic polar scope, full USB3 hub - with a single USB cable. That's pretty nice. The CEM70 has a USB hub in the saddle, but it's USB2. There are separate USB ports for the hub and the iPolar. Both units have power routed through the back of the mount up to the saddle as well. You have two 12V ports that are fed from the mount's power and one port that will, as I understand it, route whatever voltage you have at the input up to the saddle. So, you could put 5V through there. I haven't tested this yet.
My CEM70 (non-G) arrived in the mail today. I recently sold my Atlas to purchase something that could better handle the payload I image with. I use the Orion 190 mm Maksutov-Newtonian, which is about 22 lbs. Attached to that, I have a ZWO 1600MM Pro with filterwheel, auto-focuser, and OAG with the ASI290 mini. The total weight is probably around 30 lbs max, perhaps less.
There's already an unboxing video out there, so I won't bore you with that. I was hoping to go over some more details that were not present in other videos I've seen. I would like to also answer any questions people might have about this new model. Here's the PE curve iOptron measured on the bench. Real-world results will vary, I'm sure.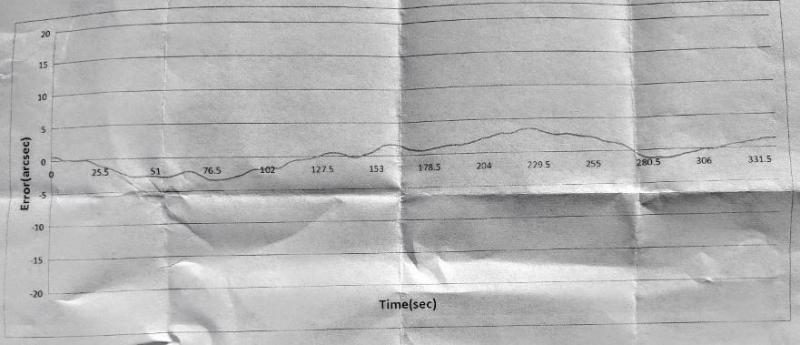 One feature I particularly like is that you can easily - I mean in 3 minutes tops - route a USB3 cable through the DEC axis and pull it out the back of the RA axis. There is a small black plastic cap on the back that pops right out. You can also easily remove the larger black metal cap that plastic cap resides in. Then, simply push a USB cable through the center of the DEC axis and pull it through with some tweezers. I thought it would be a pain to thread the cable down and fish it out, but it couldn't have been easier. Then store the plastic cap somewhere safe and secure the larger metal cap back in place.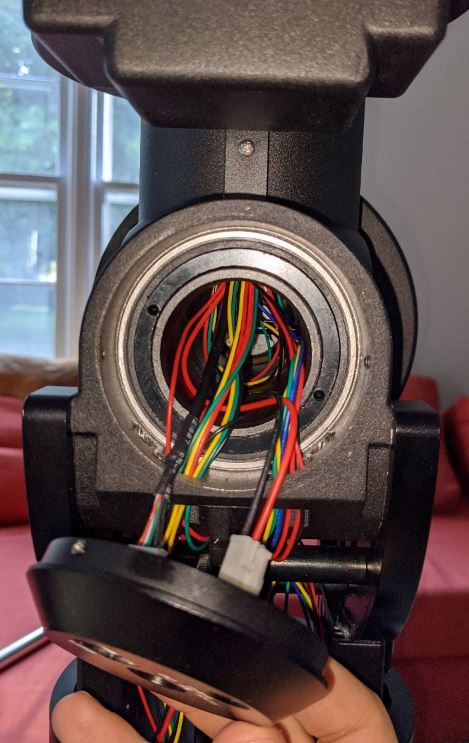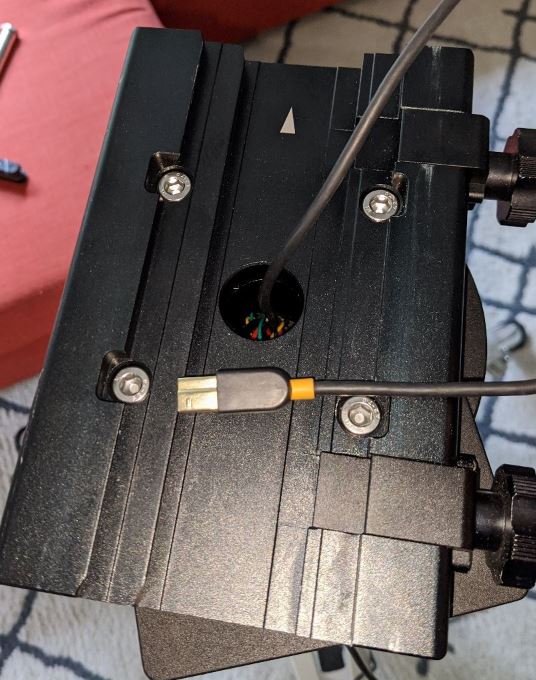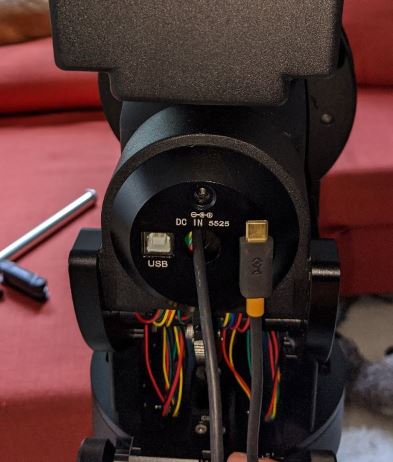 I plan on using this for my camera and I'll probably plug my other devices into the USB2 hub up top.
I also found the method for attaching the mount to the iOptron Tri-Pier to be a nice upgrade from the Atlas. There are two recessed bolts on the sides. They're spring loaded, so they don't poke out to get banged around and damaged until you want to screw them in. That means you have to push and turn, but I think that's worth it to keep them protected. Once you have the mount bolted down, the alt/az adjustments are a breeze - this is a vast improvement over the Atlas. The mount is rotating on its own base for azimuth, so there is no need for a teflon disc or anything like that. You lightly turn a couple knobs in the back of the mount. A child could turn these knobs, which is a far cry from the cranking required with the Atlas. There's a nice scale that shows you how many arc minutes you've adjusted by. The altitude adjustment is nearly as easy. The knob is on the front of the mount, so I'd suggest getting mostly aligned before attaching the counterweight shaft. But if you want to raise the mount, just give a little pressure back with one hand and a single finger can spin the knob like a stereo knob. Many of you may have a mount that is this easy to align, but I haven't experienced anything nearly this wonderful before.
The counterweight shaft is a massive beast. It's about 40 cm long and 28 cm in diameter. It screws in firmly with no wiggle. Again, this might not be interesting to many, but other Atlas owners might have known their shaft to wiggle from time to time.
Anyway, feel free to ask me about this mount. If it's something I can figure out or take a picture of, I'll do my best to reply quickly. The real tests, the ones out under the stars, are going to have to wait. This Saturday might be clear for me. I'd love to hear from you all on the best ways to test my new mount as well. I'd like to capture the periodic error and see what my guiding looks like.
Thanks for reading!