After spherizing my image of the Elephant's Trunk Nebula (for planetarium projection) I noticed it looked like some strange exoplanet. All it lacked was rotation. I decided to give it a spin with Photoshop. The resulting video animation can be seen on YouTube: https://www.youtube....h?v=8QctNOKmzTw. A short overview of how it was made is also there. To achieve one or more rotations, it was necessary to seamlessly splice together the left and right sides of the image, and yes, that required some fudging of the image data. My conscience bothers me about that, and I'm deeply concerned that (based on this video animation) astronomers might try to reclassify the thing as a planetary nebula, or worse yet, mistake it for a real exoplanet. Maybe I'm worrying too much. I probably just need to get out of the house for a little while.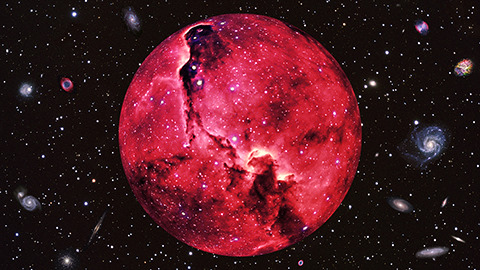 Click here for the video animation.
EXPOSURE DETAILS:
8x10-minute exposures through Celestron LRGB filters, and 18x10-min exposures through Astrodon 5nm Ha filter (grand total 8-hours, 20-minutes). The camera was a QHY163M and the telescope a Televue NP-101.