I have been struggling to collimate my new 10 inch dob for over a week. I had purchased the Celstron Collimation tool but returned it and now have a Meade laser collimation tool. I have been reading many of the forum posts on this topic and followed one of the suggestions to finally get the red dot back to the center of the primary (looking down the tube). I did this by loosening the 3 screws and manually adjusting the secondary until the laser dot was near the center. I then adjusted the tilt until it was about perfect. Looking through the focuser without an eyepiece it doesn't look great.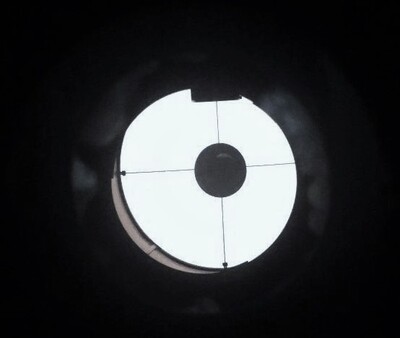 So, having faith now that the red laser dot is in the center and that the secondary is facing the focuser tube properly, should I expect that adjusting the primary mirror is going to bring me home on this process? I have little faith that it will work. One of the problems I have been having when I go to adjust the primary is that the red dot on the Meade collimator target area is either not seen or does not look like a dot but instead is kind of blown up where the dot is not clearly defined.
Also, based on the picture above, will a primary mirror adjustement really bring everything to the center when viewing through the focuser?
Thanks much.