Hi all,
I had a rather unsuccessful go at Mars on 30 July (edit: June, sorry) where a screaming jet stream and a very approximate collimation effort under poor seeing left me with a Mars that would not have looked too out of place in Kevin's Square Planet Challenge.
Last night was better in terms of seeing, though still not great, but the arrival of my Bob's Knobs yesterday meant I was more easily able to collimate.
Mars was looking dusty and so I present the RGB, R and IR685 images to try and give some impression of what you can see, and what is obscured, from this vantage point. Looking at ALPO, the dust seems to be spreading to the rest of Mars, but this view at CM 11- 334 still has the most obvious impact on albedo. Note what appears to be a light patch south of Meridiani Planum in Noachis Terra. I do feel that the dust storm in May 2018 that went global was more intensely blanketing over the surface details after a very few days than this one is.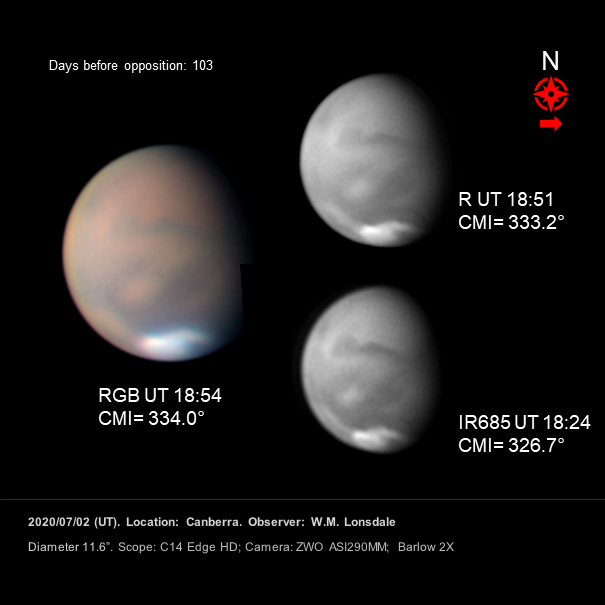 I also attach a series of my images from the last week showing progress in the dust storm over the last week, including the dodgy 30 June image that was affected by bad seeing and sub-optimal collimation. The arrows show the dust plume (25 and 27 June, and the light patch (2 July).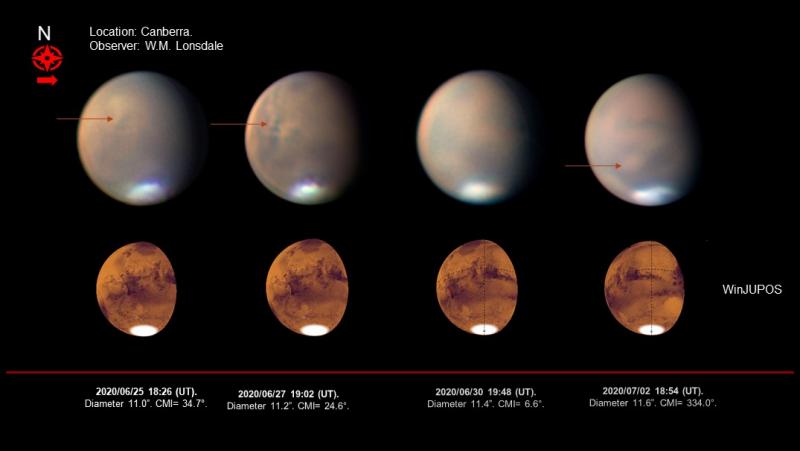 Regards
Mark
Edited by Lacaille, 03 July 2020 - 07:35 AM.