Hi,
Here's a sketch I did last Thursday of the King. I have been using color pencils to do Jupiter sketches in color but I like the effect people get with pastels so I thought I would try that. I used my Kooh-I-Noor pastel pencils on printer paper.
The SEB had a very noticeable rift bisecting it and the NEB was quite dark. I wasn't being heavy handed with the intensity of that festoon--there have been some seriously blue festoons this apparition.
I also did a sketch of the other Gas Giant but I wasn't satisfied enough with the template to include it here. If someone has a good template of Saturn with a +22 degree ring tilt, I wish they'd post it. Thanks in advance!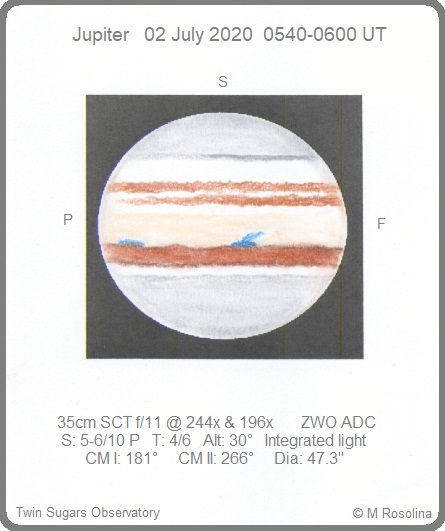 Edited by Special Ed, 04 July 2020 - 03:44 PM.