Hi all - well, after waiting several weeks for the camera to get here due to unknown reasons (Fedex was taking over the large TNT freight company) it arrivied here last Tuesday & quite a lot of other things have happenned to us...

Sam's generosity in giving this new camera to us is much appreciated

- this is the 7th camera now that we have been lucky enough to receive through his largess.

All this culminated in us leaving on Thursday afternoon immediately after I had been laying on a dentist's chair as he wrestled for over half an hour to extract a large tooth that had split right through...I mainly kept my eye closed as he wrestled & the nurse held my head firmly..!

Still taking pain-killers for it 3 days later: we got to Carrieton (400km roughly) after sunset on Thursday but knew we needed to head significanly further North to get out from under the cloud-blanket that enveloped nearly all the Southern half of South Australia...
Drove another 300km the next day to Copley & set the scope etc up hoping for some clear areas at least, with no real expectations of worthwhile seeing...
I would describe the seeing as "reasonable" trying to be the most objective: onscreen feeds were quite ok for a small window with Jove but the detail was somewhat murky & focus quite dificult to achieve, taking a good few minutes between each capture to be reasonably satisfied that it was the best achievable...
When the seeing dropped we switched to Saturn but surprisingly the seeing was a bit better, even though these planets are quite near to each other in the sky...
Mars was only just over 40° by then but we decided to get it onscreen before going inside for a warm drink - we were both extremely tired from the last few weeks etc & my eyes were getting very sore

- but when the appearance looked promising we decided to hang in for a few captures at the least, never knowing how seeing can turn despite elevation...
A good thing because after the early captures we went inside for over an hour to when Mars was well over 50° - the seeing had gone bottom-up & the images were rubbish..!
Anyway, as I said in my last thread I felt that the sensitivity of this new 462 camera was really quite noticeably evident: I have tried to make a couple of FireCapture .txt comparisons & they will appear here...unfortunately the only ASI 224MC logs were with much greater f/l's so not really comparable but I have included some ASI 290MM logs of similar f/l's - & it is of course with similar-sized sensor-pixels...
A bit of "apples & oranges" I appreciate, but you can see that the gain needed for similar histograms & fps is pretty darn good for the ASI 462MC...

With the EFW in situ it allowed us to try some filtered captures that I'm also posting here, with an ir742nm Saturn still to be processed.
With the proviso that more trialling is needed & the fact that the seeing was nowhere near that at Bower a week earlier, we still believe this "first light" was a real success with this new sensor: needless to state that a mono sensor would be amazing, we all said that about the ASI 224MC also...with these machine-vision cameras it appears that colour with outstanding ir response is what is demanded by the companies that make these cameras viable in production etc...so there's not much one can do about that but wish...

I'll start with the Jovian images in this post...please appreciate that there might be some glitches in the processings due to the rushed circumstances & stress we're under to get these out - plus the fact that they're done in the field on my laptop & then transferred to Pattie's for some more adjustments before posting here.


Perhaps we might get another chance in a couple of days to add to these trials - maybe even with good seeing...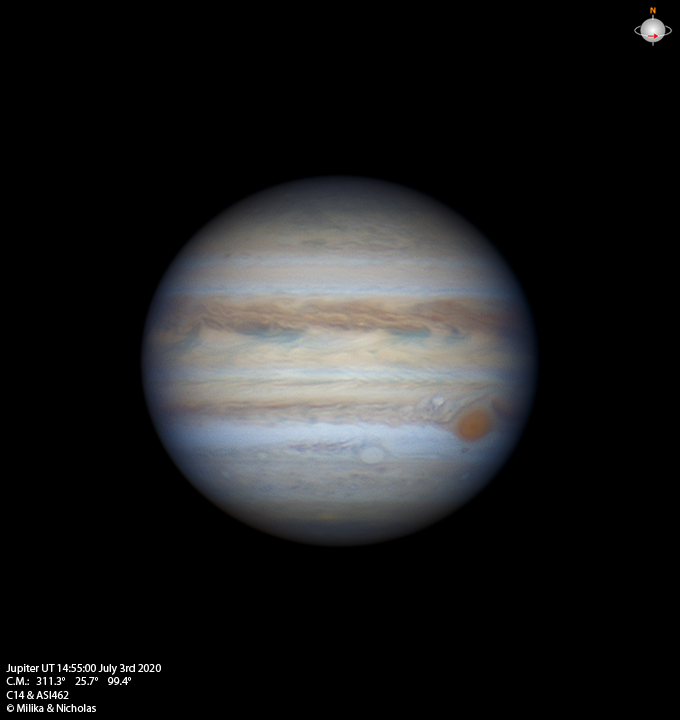 Edited by Kokatha man, 05 July 2020 - 07:40 AM.