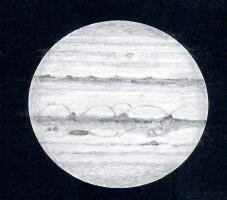 Here's a sketch from last night's session. After quite a few nights of marginal seeing, the winds calmed down.
NEB has many ovals including the dark elongated one that might become a lasting barge.
7/8/2020 6:36-7:10 UT
CMI 77.23. CMII 116.03 CMIII 191.1
15" f/4.2 167x, 204x Moon Sky Glow filter and Apodizing screen
Seeing Good Transparency 5
Edited by Dean Norris, 08 July 2020 - 08:44 PM.