I got my QHY600M with OAG and FW today. Filters will take few more days to get here. The system looks well built (I do have the QHY814 and it has been working well as well). I am trying to characterize the camera and running into few issues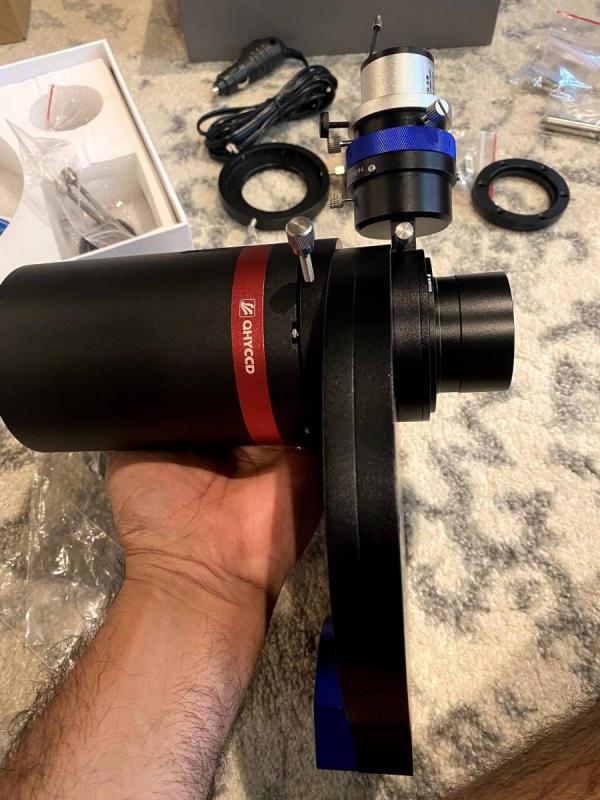 I installed the latest available drivers from QHY site. Got the SDK, ASCOM drivers. I also installed their driver bundle. The OS is latest Window 10, 64 bit.
My default imaging program has been SGP and I started with that. The ASCOM drivers show up and I could open ASCOM camera properties . I left readout mode to "photographic" and set 26 gain/10 offset as recommended in their site.
The cooling seem to work when started from SGP and when I tried to take a frame, I was hearing weird beeping (never experienced that before) and it was stuck in downlading and it never completed.
I aborted the app. Reconnected the camera. Downloaded NINA . This is the first time I am seeing the program and it took a bit of time to get my way around it. But I replaced the QHYCCD dll file with the one I downloaded from the QHY site (WINDOWS_qhyccd_V20200203_0) and I could see NINA showing QHY600M in its list. I could also see ASCOM. I started with ASCOM and tried to take an image (1s duration). Same beeping ( I assume this is coming from the driver since both SGP and NINA have that beeping ) and same stuck-in-downlading state.
I selected QHY600M in NINA's list and it connected fine. I could also take a sample image and it worked fine!. I had set the temp to -5C earlier and it seemed to have reached that too.
However, the chip temp values started showing weird values like -2560C etc. Turning the cooler on or off doesnt help. It seems like a driver bug. Has anyone experienced it? I was thinking that the driver will be a bit more stable given that this has been out for few months. But this seems pretty raw.
Would love to hear what others are using in terms of software and settings.
TIA and CS
Anis