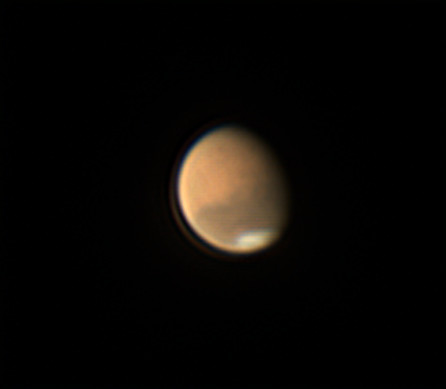 Planetary imaging noob here.
I got this image this morning:
SN-8, Powermate 5X, IR Cut filter, ASI224MC
Native f/4, f/20 barlowed, AS!3, Registax wavelets
Seeing 5/5 overhead, Mars alt ~41 degrees, jet stream ~15m/s, fog at gnd level
A bit undersampled, but I managed to get around 11k frames of 42k at ~60% quality. One thing I noticed was no matter how many frames I stacked, (tried it from around 1500 frames to 11000 of the 42000) I got this weird "artifact" for lack of a better term.
The artifact was present in all my stacked images before any wavelet sharpening was applied. Wavelet sharpening in Registax seemed to enhance it, so I applied very little. It's kind of hard to see, but it appears to be an arc of color just off the SW quarter of the planet...almost like the planet has an atmosphere that's reflecting light. The sun was just below the eastern horizon as I imaged. Anyone see this type of thing before/know what it is? Thanks, Jim